A total of 41 delegations have put their names down for the third Asian Indoor Games 2009, set for October 30th till November 8th in Vietnam, the organizing committee announced on Aug. 24.
Speaking at a press conference in Ho Chi Minh City about updates for the coming event, Mr. Hoang Vinh Giang, vice president and general secretary of the Vietnam Olympic Committee, said the delegations have registered with about 4,000 athletes, and this number is not yet the final one.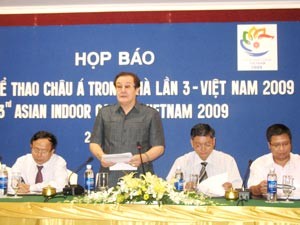 Mr. Hoang Vinh Giang, vice president and general secretary of the Vietnam Olympic Committee, updates the upcoming Asian Indoor Games at a press conference in HCM City Aug. 24 (Photo: Tuong Thuy)
Mr. Giang said Thailand registered with 420 athletics, Iran 357, India 348, China almost 300, the Philippines 252, Mongolia 180, and Japan 150. The Vietnam delegation, the hosts, would include over 500 athletes.
With the slogan "For a Rising Asia", the Games will see official competitions in 20 sports including vovinam (Vietnamese martial arts) in the first time, said Mr. Giang.
The other sports include aerobics gym, billiards and snooker, boxing, bowling, chess, dance sport, dragon and lion dance, e-sports, fin swimming, futsal (indoor football), hoop sepak takraw, indoor athletics, indoor archery, kick boxing, muay Thai, 3vs.3 basketball, pencak silat, petanque, shuttle cock, swimming, and wushu.
The top sports official said Vietnam expects to win 15-20 gold medals in the Games to finish in the top eight or higher.
The competitions will take place in Ho Chi Minh City in the south, and the northern cities of Hanoi, Ha Long, Hai Phong, Hai Duong and Bac Ninh. A total of at 27 venues will be the competition places. Hanoi will host the opening and closing ceremonies and 10 competitions, while Ho Chi Minh City will host 8 competitions.
Mr. Chung Tan Phong, who represented the HCM City organizing board, said the leaders of the participating delegations would have their first meeting in the city on August 29.
He added a road show would take place the same day in the city to further publicize the Games.
Mr. Phong said the operation center, press center and television center in HCM City would be located inside Phu Tho Sports Complex in District 11.

He said almost of the city's preparations for the Games would be finished in September, not counting those finished in August. Late September, a 3vs.3 basketball tournament would be organized in the city as a warm-up, with the participation of Vietnam, China, Malaysia, the Philippines, Singapore and Thailand.
Vietnam earned two golds, five silvers and 11 bronze medals in the second Asian Indoor Games two years ago in Macau, ranking 13th. In the first AIG in 2005, Vietnam ranked 21st with one silver and one bronze.