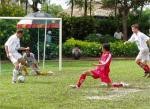 A football friendly in Ho Chi Minh City between foreigners and local students (Photo: Tuong Thuy) 
The football team of Saint John's University, New York, will visit Viet Nam from May 22 to June 9, playing some friendlies.
 
The team, one of the aces in the U.S. second-division tournament, will play V-League club Hoa Phat Ha Noi on June 7 in Ha Noi and Mitsustar Haier Hai Phong two days later in Hai Phong.
 
The Viet Nam Football Federation is arranging a friendly match between the team and Ho Chi Minh City Team in the city.
Under a memorandum of understanding that Saint John's University has signed with the Viet Nam Sports Committee, the university will in 2006 partly finance trips in the U.S. for Vietnamese athletes, sports officials and reporters to study English.