JOHANNESBURG (AFP) - United States coach Bob Bradley said Monday that South African winter conditions could help deliver a thrilling World Cup.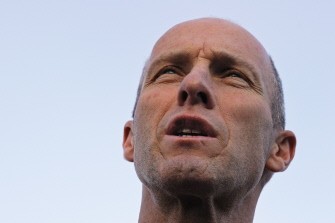 Coach Bob Bradley answers media upon the squad's arrival at the O. R. Tambo international airport on May 31, 2010 in Johannesburg. AFP photo
He spoke briefly after the 'Stars and Stripes' swapped hot, humid conditions at home for a chilly, overcast Johannesburg evening when they became the fifth national team to arrive for the June 11-July 11 tournament.
"We have been here before and know the conditions," he said, referring to the silver medals USA collected at the dress-rehearsal Confederations Cup in South Africa last June.
The Americans stunned European champions Spain in the semi-finals and led 2-0 in the Johannesburg final before Brazil stormed back with three unanswered second-half goals.
"This World Cup is in winter and that is good for football because teams are going to play at a high pace. I think it is going to be a great World Cup," said the coach who included son and midfielder Michael in the 23-man squad.
USA face England in the central platinum city of Rustenberg on June 12 in a repeat of a fixture that caused a World Cup sensation 60 years ago with the Americans triumphing 1-0 in Brazil.
Their other Group C fixtures are against Slovenia on June 18 at Ellis Park in Johannesburg - a match likely to decide who joins England in the second round - and Algeria on June 23 in Pretoria.