SHANGHAI (AFP) – World championship leader Sebastian Vettel underlined his superiority by storming to pole position for Sunday's Chinese Grand Prix with the fastest lap ever recorded at the Shanghai circuit.
The 23-year-old's Red Bull clocked a time of one minute 33.706 seconds, seven-tenths of a second quicker than the McLaren of Britain's Jenson Button, sending a strong message to rivals that the German remains the man to beat.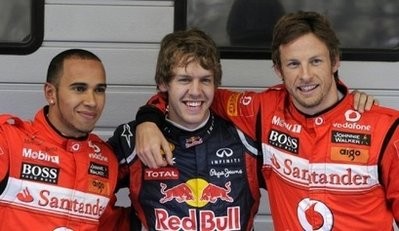 AFP - Red Bull-Renault driver Sebastian Vettel of Germany (C), McLaren-Mercedes driver Lewis Hamilton of Britain (L) and his compatriot Jenson Button (R) celebrate after the qualifying session of the Formula One Chinese Grand Prix in Shanghai on April 16.
By taking pole, defending world champion Vettel became the first Formula One driver since Michael Schumacher in 2004 to start at the front of the grid in the opening three races of the season.
But despite wins in this year's opening two races in Australia and Malaysia, Vettel said he would be taking nothing for granted on race day.
"Obviously we did it again but I try to remind myself and the team that every time is tough," Vettel told reporters.
"It all starts from zero again on Sunday. We are as happy as we can be with the car, we had good long runs on Friday so have reason to feel good," he said.
"It is not easy... but people tend to forget that."
Saturday's qualifying completed a hat-trick of pole position placings in China for Vettel, who has dominated the season so far and already looks unstoppable.
Button's McLaren came in at one minute 34.421 seconds, with his teammate and fellow Briton Lewis Hamilton in third, in a time of one minute 34.463.
Hamilton quipped that Vettel's trio of pole positions this season meant the champion was finding life "too easy", but the German said Red Bull could not afford to be complacent.
"Teams like McLaren, Ferrari and Mercedes are not as happy as they want to be," Vettel said. "They are pushing very hard, so to stay where we are, we have to push harder than them to stay there.
"We are all aware of that, and since 2009 -- halfway through 2009 -- we have had a very, very competitive car and we are enjoying to run on the front, but we have not forgotten how it feels to run at the back."
Compatriot Nico Rosberg in a Mercedes and two-times champion Spaniard Fernando Alonso of Ferrari finished in fourth and fifth place respectively, with Brazil's Felipe Massa, also in a Ferrari, completing the third row.
But Vettel's Red Bull teammate Mark Webber suffered another dreadful day and was unable to improve on 18th place from early on in qualifying, almost three seconds back from the championship leader.
Red Bull's elation at Vettel's performance, which saw him claim pole with six minutes of the session remaining, was understandably tempered by Webber's disastrous outing.
"It was a really fantastic first lap from Seb," said team boss Christian Horner.
"We weren't sure what Lewis's pace was going to be, so we ran again, but in the end it turned out that we didn't need to -- so we aborted the lap and came in to save the tyres."
On a cool day at the Shanghai International Circuit, where the track temperature was only 23 Celsius, Australian Webber struggled for pace on hard tyres.
"It's been a dreadful day for Mark," said Horner. "He had some electrical problems this morning and it was a massive effort to get the car ready.
"Not a great first run. We went again on the primes and unfortunately those tyres were not quite up to temperature and it didn't work out."