The four U-23 teams of China, Singapore, Thailand and Vietnam will compete in the friendship Vietnam Football Federation (VFF) Cup in Hanoi from November 5 to 9.
Speaking at a press conference in Hanoi Oct. 22, VFF general secretary Tran Quoc Tuan said that three guest teams had agreed to field their best players at the My Dinh National Stadium, the venue of the round-robin competition.
As it is a round-robin tournament, U-23 Vietnam will play all the other teams, which was described by Mr. Tuan as a good test for the Vietnamese squad before the 25th Southeast Asian Games in Laos in December.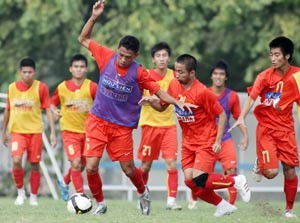 U-23 Vietnam are on training in Hanoi to prepare for the VFF Cup and this December's SEA Games (Photo: SGGP)
Like Vietnam, both U-23 Singapore and U-23 Thailand are preparing for their SEA Games campaigns.
The VFF Cup champions will receive US$25,000, the runners-up $10,000 and the third-placed teams $5,000. Vietnam will play Thailand in the opener on Nov. 5.
Reportedly, Vietnam' coach Henrique Calisto expects the event to be a chance to know assess the strength of both Singapore and Thailand, the key rivals of Vietnam at the SEA Games.
Both Singapore and Thailand are deemed to be stronger than other teams in the region.
Singapore's national squad won the Ho Chi Minh City International Cup on Oct. 24. The selection team of Korean students came second, Vietnam's national squad third and Turkmenistan came fourth in the four-team tournament.

Meanwhile, U-23 Vietnam were defeated 1-2 by South Korea's Chunnam Dragons on Oct. 21.
The Vietnamese team are on their training camp in Hanoi for the VFF Cup, and this December's SEA Games.