The Vietnam Football Federation (VFF) has offered Chinese-born coach Chen Yun Fat a new contract for two years with the women's national team thanks to their outstanding performance in 2007 and this year.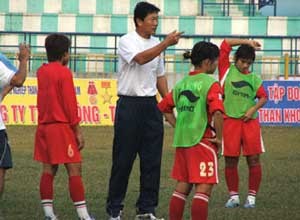 Coach Chen Yun Fat (in white) and some of the women's national team during a training session (Filed photo)
The head coach's current contract with VFF will finish in February 2009 but he cannot give an official answer to the football governing body until China's Dailin Football Association gives him the green light, because he is wearing the Dailin hat.
He really wants to sign a new contract with VFF, sources close to him in Vietnam say, adding that his new salary would certainly be higher than the current US$2,000 per month.
Chen first took the post of head coach of the women's Vietnamese team in late 2006 while the squad were facing a tough time due to previous poor performance. Making lots of efforts, he and the Vietnamese women won the Southeast Asian Games silver in late 2007.
During the 2008 Women's Asian Cup played in Ho Chi Minh City in May and June, Vietnam beat Thailand 1-0 in their group, which included Asian superpowers China and North Korea.
In the 2008 Women's Asean Cup, also staged in the city last month, Vietnam under Chen came second after losing 0-1 to Australia in the final. Earlier, the Vietnamese women beat both Myanmar and Thailand, which are regional strong teams. Given with these results, he has gained credit.