The Vietnamese Women's Football Team will receive VND3 billion for their effort at the 27th SEA Games, according to the Vietnam Football Federation (VFF).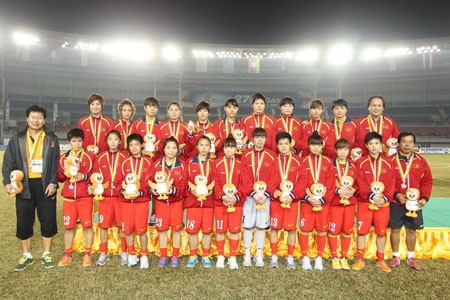 The Vietnamese women's football team wins a silver medal at 27th SEA Games. (Photo: SGGP)
VFF had already promised to reward the team VND2 billion if they brought home a gold medal, VND1.5 billion for a silver medal, and VND1 billion for a bronze medal. After the Vietnamese men's football team was eliminated in the qualifying round, the efforts of the women's football team drew attention from a large number of Vietnamese fans and hence, the Football Federation decided to raise the amount.
As for Coach Hoang Van Phuc of the Vietnamese men's football team, the Vietnam Football Federation will meet on December 24 to decide his future with the team. The former Coach F.Goetz had been fired due to his team's debacle at the 26th SEA Games in Indonesia in 2012.