The Vietnam Football Federation's disciplinary board has suspended STN Quang Ngai from the V-League and slapped a fine of VND70 million (US$3,900) for walking out of a match against Sai Gon United on July 25.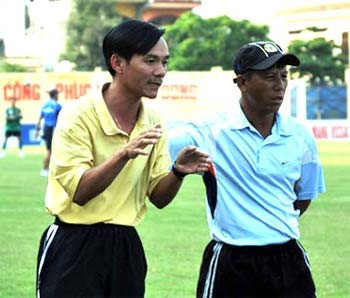 STN Quang Ngai has been thrown out of this year's V-League and its coach Trinh Cong Minh (L) and deputy chief Ho Dang Bong have been banned from all football for 18 months following a walk-out during a match over the referee's decision
The club's deputy chief Ho Dang Bong and coach Trinh Cong Minh have been banned from all football for 18 months and fined VND10 million ($550) each.  
The VFF has also suspended defender Vu Quang Vinh for nine months and fined him also VND10 million. 
The VFF's disciplinary chief, Nguyen Hai Huong, said his board had considered carefully before passing the verdict on STN Quang Ngai but said the punishment is appropriate and necessary to deter other teams from following suit.  
The incident happened when referee Kieu Viet Hung awarded a penalty to Sai Gon United following an illegal tackle by STN defender Vu Quang Vinh.  
Incensed, the STN players suddenly walked out.   
The disciplinary board checked the match tape and fully agreed with the referee's decision. 
Following STN's suspension, the results of all its other matches have been scratched. Binh Dinh, which got the full six points against STN, could even miss out on the chance to enter the play-offs.  
Mr. Huong admitted some teams would benefit from this while others would be at a disadvantage. But he said "the teams should think of the benefit of the league first." 
The VFF has also ordered the next match at the Lach Tray stadium, between Hai Phong Cement and Dong Tam Long An on August 9 to be played behind closed doors for poor management.  
It also slapped a fine of VND55 million ($3,000) on the stadium for allowing hooligans supporting Hai Phong Cement to throw objects on the pitch in a match against Ho Chi Minh City team on July 26, injuring assistant referee Huynh Quoc Viet.