LONDON, April 17, 2011 (AFP) - Manchester United captain Nemanja Vidic has promised to spend the rest of his career with the Premier League club.
The 29-year-old has attracted interest from the likes of Real Madrid, Barcelona and AC Milan and, even though he signed a new long-term contract at the start of this season, reports continued to suggest he would consider a move away from Old Trafford.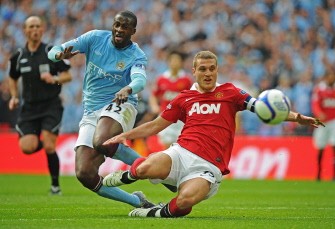 AFP - Manchester United's Vidic (R) vies with Manchester City's Ivorian midfielder Yaya Toure (L) during their FA Cup semi-final football match on April 16, 2011.
However, the Serbia defender rubbished those rumours as he insisted he would happily finish his career with Sir Alex Ferguson's team.
"I hope to spend the rest of my career here at United," Vidic told the Sunday Mirror.
"I heard the speculation about me maybe leaving last year, but I know where I want to be and I have shown my commitment to the club.
"I have given the best years of my career to this club and the talk about me leaving here was never correct.
"I always give my best. Of course, sometimes you have good and bad days, but I think I always try to give 100 per cent - and especially now I have that armband and the responsibility that goes with it.
"I'm definitely here for the rest of my career now. It never came from my mouth that I would be leaving United. I love it here and I think I show that on the pitch."
Vidic has won three Premier League titles, one Champions League and three League Cups since joining United from Spartak Moscow in 2006.
And the honour of being United captain would make him even prouder if he could lift another trophy this season.
United are still in the hunt for the Premier League and Champions League and Vidic added: "The boss told me at the start of the season he was giving me the captaincy.
"Then after a few games he said that I would be captain for the season, which was great news.
"Being captain of United is a big honour and I am really enjoying the role."