Nguyen Thi Anh Vien set a new Southeast Asian Games record in the women's 400m freestyle event, with a time of 4min 7.96sec.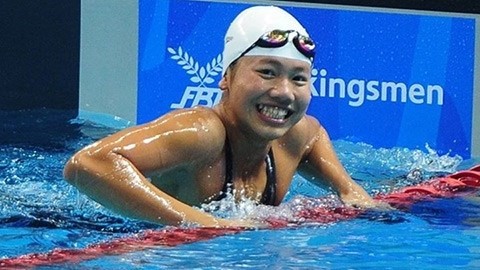 Nguyen Thi Anh Vien (Photo: VNA)
Vien, who took part in the Arena Pro Swim Series in Indianapolis, the US, came in fourth in the event, but her result has become the new bar for the region, beating the old record of 4:08.66 that she made last year in Singapore.
Earlier, Vien won a tournament gold medal in the 400m IM with a time of 4:41.92, along with a bronze medal in the 200m freestyle, clocking 1:58.82m, which is also a new SEA Games record.
She will compete in the 200m IM and 100m freestyle events in the next few days.
Vien is currently the only Vietnamese swimmer to have qualified for three events at the upcoming Summer Olympics in Brazil.