Tran Duc Duong scored a single valuable goal for Viet Nam's Under-23 team in their Friday match with Indonesia in the Ho Chi Minh City International Football Tournament. The home side's 1-0 victory revitalized their hopes to defend their championship.
On Wednesday, U-23 Viet Nam lost 0-1 to Olympic Finland and Olympic Cameroon defeated Indonesia 2-0 in the round robin tournament, whose actual name is BV Cup.
However, Friday's earlier game between the junior Scandinavians and the African lion cubs on ended in a scoreless draw at Thong Nhat Stadium. If either of them had won, the winners would have put one hand on the trophy.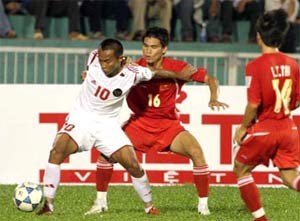 Viet Nam midfielder Tran Duc Duong (in red) fights for the ball with an Indonesian player (Photo: VietnamNet)
Inspired by big fans at the stadium and the draw in the earlier game, Viet Nam played fast and aggressively immediately. In fact, they and Austrian coach Alfred Riedl suffered from lots of criticism after an awful Wednesday, but Indonesia also demonstrated their high spirit after their defeat.
The all-red-jersey locals sought to press their opponents but the all-white-jersey players opposed successfully, making Viet Nam play with a 5-3-2 formation at times rather than an aggressive 4-4-2 structure.
In the first 40 minutes, the Myanmar referee booked two Indonesians and one Vietnamese with the yellow card. Just before the break, Viet Nam striker Nguyen Anh Duc had a very good chance to face Indonesia keeper Kartiko inside the smaller box but the former was so slow and a defender saved his goalie just in time.
Twelve minutes after the break, Minh Chuyen conducted a left-wing corner kick and midfielder Duc Duong defeated keeper Kartiko with a header from a narrow angle.
The home side then made impetuous attacks. Just a few minutes after the goal, striker Le Cong Vinh faced Kartiko but his shot went straight to the keeper's hands. The Vietnamese forward could have done much better. Two minutes later, Vinh had another chance but Kartiko stretched his body fully to catch Vinh's shot inside the box.

Coach Peter Withe replaced three substitutes and shouted his players to approach the opposite goal. It was a real struggle for the home side, who in turn were under heavy pressure. Goalie To Vinh Loi also contributed to his team's victory by keeping his net clean.

After the game, Olympic Cameroon took the lead with four points, ahead of Olympic Finland thanks to goal difference. Viet Nam rank third with three points and Indonesia at the bottom with empty hands.
This Sunday, Viet Nam will confront the African side after the other two teams play their match. Cameroon, Finland and Viet Nam all see chances to win the tournament.
Related articles
Cameroon, Finland Take the Lead in Football Cup
Tough Football Tournament for Viet Nam before Asian Games