Viet Nam's Olympic team defeated Malaysia's Under-21 squad 4-0 in the opener of the Capital Football Cup in Ha Noi on Tuesday.
The victory was a good start for the hosts, who are preparing for the Asian Games in Qatar this December and the Asian Football Championship early next year. Viet Nam coach Alfred Riedl said his boys have been determined to win the Capital Cup to gain momentum for the later competitions.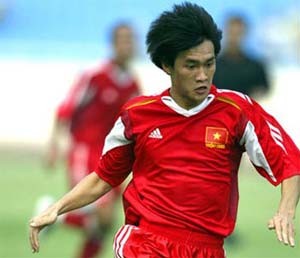 Striker Le Cong Vinh in the match (Photo: VietNamNet)
At Hang Day Stadium in Ha Noi, Vietnamese fans did not wait too long as the Vietnamese referee decided a penalty for the all-red-jersey hosts after striker Le Cong Vinh was tackled down in the box. But his shoot was over the bar.
Vinh made things right 10 minutes later by pushing his team ahead with a shot on the box edge from a cross by midfielder Nguyen Hong Minh. Vinh received VND2 million in cash (US$125) from tournament sponsor Saigon Hanoi Bank for the first scorer in the cup, attended by the two teams and Thailand's U-21 squad.
Ten minutes later again, forward Vinh brought about another penalty after Malaysia goalkeeper Mohammed Sharbinee struck him down. Viet Nam captain Minh Phuong finished the penalty completely, doubling the score.
Malaysia's all-yellow-jersey juniors played higher after the break with the hope of changing the situation but what they failed to do was scoring. They created some good chances but Viet Nam goalie To Vinh Loi succeeded in keeping his net clean.
Substitute striker Anh Duc netted the third goal for Viet Nam in the 89th minute, and just a few seconds before the final whistle, he finalized the score at 4-0.
Malaysia will play the Thai side on Thursday, and the hosts will encounter Thailand on Saturday.
The round-robin tournament's winners will take US$10,000, the runners-up US$5,000, and the other team US$3,000.
The Vietnamese team under Austrian coach Riedl returned to Ha Noi two days before the cup after a ten-day training session in Japan.