A goal by striker Le Cong Vinh five minutes before the final whistle helped Viet Nam earn a 3-2 victory over Singapore to meet hosts Thailand in the final of the King's Cup tournament in Bangkok.
Despite needing only a draw to reach the final, the Vietnamese played aggressively during their Thursday game with the Lions, who will be the hosts for Group B (including Viet Nam) in the Asean Championship in January.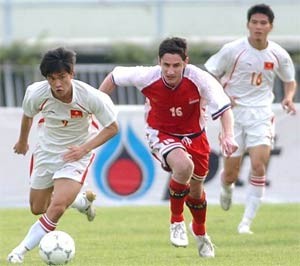 Singapore defender Bennet (in red) chases striker Le Cong Vinh in the Viet Nam-Singapore match in Bangkok on Thursday (Photo: SGGP)
In Bangkok yesterday, Viet Nam leaped ahead after just six minutes when striker Phan Thanh Binh headed home a corner kick on the left wing by Nguyen Vu Phong.

But the advantage lasted only seven minutes until Singapore defender Daniel Bennet's thunderous free kick went through the Viet Nam wall into the bottom left corner. A mistake here was a blank in the wall that Vietnamese players failed to fill in when a Singapore footballer stepped out.  
Not accepting a draw, which was enough for them to play the final, Viet Nam continued their attacks and restored their lead in the 52nd minute when midfielder Le Tan Tai's shot hit a Singapore defender and the ball went into the net.
 
The Lions leveled again when unmarked Fazrul Nawaz headed home while Vietnamese defenders were standing still.
But Cong Vinh sealed Viet Nam's victory. After missing two clear chances in a few minutes, Vinh popped up near the Singapore box, taking the ball returned by Anh Duc and firing at the box edge to secure maximum points and a place in Saturday's final.
Hosts Thailand, who had already qualified for the final, drew 2-2 with Kazakhstan in Thursday's later match. Thai coach Charnwit Pholcheewin fielded second string players to rest his key men for the final. Thailand went two up before Kazakhstan came back for the draw.
Vietnamese fans at home know that their beloved team will be underdogs in the final but they hope for a better-than-expected result for the national team, who will jump into a real struggle in the next two weeks in the Asean Championship, whose defending champions are Singapore.
Results

Dec 24
Singapore vs. Kazakhstan  0-0
Thailand vs. Viet Nam 2-1
Dec 26
Viet Nam vs. Kazakhstan  2-1
Thailand vs. Singapore 2-0
Dec 28
Viet Nam vs. Singapore 3-2
Thailand vs. Kazakhstan  2-2
Dec 30
Final: Viet Nam vs. Thailand
Related articles
King's Cup: the Door to the Final for Viet Nam wide open

Thailand Defeat Viet Nam 2-1 in King's Cup