Nguyen Phuc Long, one of the Vietnamese representatives at the quarterfinal at San Miguel Asian 9 Ball Tour, has made an amazing victory for Viet Nam Pool sport.
He won the game at 9 -7 over Taiwanese Yang Chin Shun, 2002 World Games Champion and 14th Asian Games champion, to earn a place in the semifinal.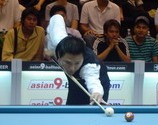 Phuc Long in the winning match to the semifinal st San Miguel Asian 9 Ball Tour (Photo - Thai Vy)
Yang Chin Shun, who has been selected as one of this year's seeds, started the games so well. He came over Phuc Long in the first three racks at one point difference, then was kept balanced in the fourth race.
In the following 4 racks, Yang Chin Shun once again went ahead of Nguyen Phuc Long, who had to chase after the Taiwanese player to keep the game balanced. The game showed the severe competition between two players.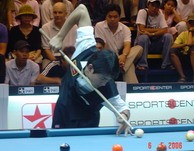 Yang Ching Shun at the quarterfinal of San Miguel Asian 9 Ball Tour(Photo - Thai Vy)
However, Nguyen Phuc Long, who won the opportunity of participating the Tour by chance, made an impressive victory when he turned the situation around. Phuc Long not only kept the game balanced but also scored the last winning points to seal the final victory over the ex-Taiwanese World Pool Champion, Yang Chi Sun.
Tomorrow, Nguyen Phuc Long faces a very famous pool player, Efren Bata Reyes in the first semifinal of the third competition day of the San Miguel Asian 9 Ball Tour. The second semifinal is between China's Li He Wen and Taiwan's Wang Hung Hsiang.
The second semifinal is followed by the final match and all matches will be telecasted live over Asia.