Vietnamese wushu athletes won three silvers but failed to take a gold medal on Thursday, the final competition day of the Vietnamese contingent at the 15th Asian Games that will wrap up today in Doha, Qatar.

The Vietnamese athletes clinched three golds, 13 silvers and seven bronzes, ranking 19th by the end of Thursday.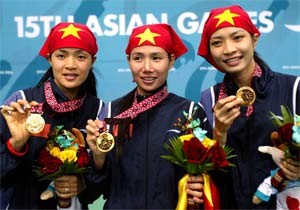 A Vietnamese women sepaktakraw team show their Asian Games gold medals (Photo: SGGP)
In wushu, Phan Quoc Vinh took a silver after losing to reigning world champion Catalan Rene Sornito of the Philippines 0-2 in the final game.
 
Later, Nguyen Duc Trung failed to get a gold as he faced a very strong player in the final – Zhao Guangyong of China, where wushu martial arts came from. Trung lost 0-2 to Zhao in the 65 kilogram category, to win a silver – the last medal for the Vietnamese contingent in the Games.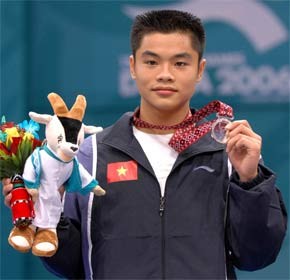 Pham Quoc Khanh with his silver medal (Photo: SGGP)
Pham Quoc Khanh also took a silver in the men's three events combined with a total of 29.07 points. The champion in this category is another Chinese, We Caibao.

Khanh's teammate Tran Duc Trong ranked fifth in the men's taolu, a category in wushu, with 9.48 points, while Vu Tra My came fourth in the women's sword competition with 9.55 points. 
With three gold, 13 silver and seven bronze medals at the Games, Viet Nam came behind the target. The contingent, comprised of 365 athletes, coaches, referees and officials, had hoped to obtain at least five golds.
 
Almost 250 athletes competed in 25 events such as bodybuilding, karate, wushu, weightlifting, taekwondo, billiards & snookers, sepaktakraw, track and field, canoeing, rowing, chess, cycling, fencing, judo, shooting, wrestling, swimming, gymnastics, table tennis, football, badminton, tennis, golf, and women's volleyball. The 15th Asian Games officially started on December 1.
 
In the 2002 Asian Games in the Republic of Korea, Viet Nam bagged four golds, seven silvers and seven bronzes, ending up in 15th place overall in the medal tally.
Vietnamese medalists

3 golds
- Sepaktakraw women team
- Sepaktakraw women doubles: Nguyen Hai Thao, Luu Thi Thanh, Nguyen Duc Thu Hien
- Karate women's kumite 48 kg: Vu Thi Nguyet Anh
13 silvers
- Bodybuilding men's 60 kg: Pham Van Mach
- Chess men's rapid: Dao Thien Hai
- Billiards 3-cushion: Duong Anh Vu
- Karate women's kata: Nguyen Hoang Ngan
- Karate women's kumite 60 kg: Nguyen Thi Hai Yen
- Sepaktakraw women's regu, women team
- Shooting, 10m running target, women team
- Taekwondo women's 55 kg: Hoang Ha Giang
- Taekwondo women's 59 kg: Nguyen Thi Hoai Thu
- Weightlifting men's 56 kg: Hoang Anh Tuan
- Wushu men's three events combined: Pham Quoc Khanh
- Wushu men's 52 kg: Phan Quoc Vinh
- Wushu men's 65 kg: Nguyen Duc Trung
7 bronzes
- Karate men's kumite 55 kg: Pham Tran Nguyen
- Shooting men team, 10m air pistol
- Shooting men team, 10m running target
- Shooting women's 10m running target: Dang Hong Ha
- Taekwondo men's 62 kg: Vu Anh Tuan
- Taekwondo women's 51 kg: Do Thi Bich Hanh
- Taekwondo women's 67 kg: Bui Thu Hien