Viet Nam jumped to second position, pushing Singapore back to the third, thanks to a golden rain yesterday and today.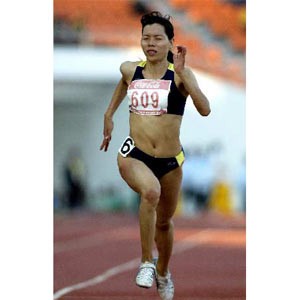 Vu Thi Huong wins a gold medal in the Women's100m
Viet Nam easily added new 3 gold medals in wrestling yesterday.
Vietnamese wrestler Man Ba Xuan only needed 40 seconds to defeat Filipino Marcus Valda and the nation's first gold of the day. It may be record-breaking performance in his Men's Freestyle 84kg.
Two Vietnamese girls, Dang Thi Van and Pham Thi Hue, knocked out their opponents, too, Filipino Jambora and Thai Wilaitwan Thongkham and pocketed two golds in Women's Free Style 48kg and Women's Free Style 51kg.
Asian Athletic Champion Truong Thanh Hang had no trouble in Women's 1500m sprint but Vietnam's "Queen of Speed", Vu Thi Huong, suffered a spasm of pain before reaching taking the Women's 100m.
Huong had a good start and soon took the lead. But in the middle of the race she fell behind her Thai rival Sansat Nongnuch due to back and leg trauma. But in the last 30 meters, Huong stunned spectators by rushing past Sansat to take first.
Another two Vietnamese girls, Nguyen Thi Nu and Bui Thi Hien won two bronze medals in Women's 400m Hurdles and Women's 1500m.
In mountain biking, Viet Nam earned a gold, a silver and a bronze thanks to the efforts of Nguyen Thi Thanh Huyen and Nguyen Thanh Dam in Women's Cross Country and Phan Thi Thuy Trang in Women's Downhill.
Two final bronze medals were added to the collection by Le Hong Phuoc and Nguyen Thi Hien in Pentaque's Men's Shooting and Women's Shooting.
Viet Nam usurped Singapore's second place overall position with its new record of fifteen gold medals, seven silver and 22 bronze while Singapore stopped at eleven gold medals, ten silvers and ten bronzes. Thailand remained in first place with 37 golds, 32 silvers and 16 bronzes.