Oman beat Viet Nam 3-1 yesterday in the Asian qualifying round for the Beijing Olympics.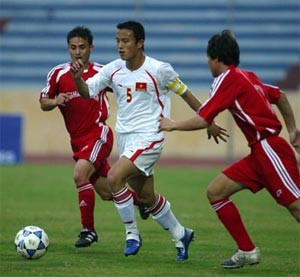 Vietnamese midfielder Van Bien caught between two Omani defenders
Intent on avenging their 0-2 loss in Lebanon, the host side started quickly and nearly led in the third minute when Abdullah Thuwani bamboozled two Vietnamese defenders before delivering a fierce shot that ended up behind the net.
Omani striker Hassan Zahir used his strength to get around Vietnamese defender Xuan Hop in the 17th minute before firing a close-range shot over the crossbar. He also went close in the 40th minute with a header that sailed just wide.
Oman pressed the visitors hard in the first half and had several chances but the Vietnamese defense steadied and was able to thwart the incessant attacks.
The hosts took the lead in the 54th minute when striker Hassan Zahir met a long cross from midfield and launched a perfect dipping strike into the far corner of the net. Oman doubled their score four minutes later when Younis Mahizari flicked the ball past a diving Duc Cuong.
The visitors finally rallied and started creating many chances including Phong Hoa's right-footer in the 82nd minute that was stopped by goalkeeper Al Arawi. Omani player Maktoom Obai jumped his mark with a skillful tap behind before curling the ball into the top corner of the net in the 86th minute.
Viet Nam pressed for an equalizer and the Omani goalkeeper had to thrust out a hand to block Quang Tinh's chip shot in the 88th minute.
One minute later Vietnamese midfielder Phong Hoa managed to break through the defense and score with a powerful header from a Vu Phong cross.
Viet Nam, Oman and Lebanon are now tied at the top of Group C on six points, while Indonesia lies at the bottom with zero points.
Olympic Oman: Riyadh Sabeit, Khaaliq Fayil, Saad Suhail, Hassan Zahir, Ahmed Mubarak, Al Farsi, Abdullah Thuwaini, Younis Mubarak, Issa Marhoon, Al Shamsi, Mohammed Saleh.

Olympic Viet Nam : Duc Cuong; Viet Cuong, Long Giang, Xuan Hop, Van Bien; Vu Phong, Duy Nam, Minh Chuyen, Tien Thanh; Phuc Hiep, Thanh Binh.