Viet Nam's Olympic football team became the champions of the Capital Cup in Ha Noi after defeating Thailand's Under-21 squad 2-0 in the last match on Saturday.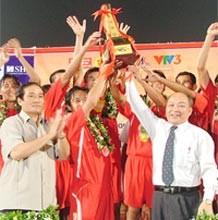 The champions take the trophy in Ha Noi
The home side showed clear determination to win with an aggressive 4-4-2 formation while the less experienced Thai juniors played 5-4-1.
Fans in Hang Day Stadium in the Vietnamese capital had no chance in the first half to celebrate a goal, although their all-red-jersey players earned a higher ball possession rate and threatened the Thai goalkeeper many times. The goalie and five Thai defenders managed to discourage Vietnamese forwards. 
Both goals in the second half came from headers. Five minute after the break, midfielder Nguyen Minh Chuyen made a header inside the smaller box after the ball from a cross went beyond the Thai keeper's reach. In the situation, the Thai defenders got close to strikers Le Cong Vinh and Anh Duc but left the scorer free.
The all-blue-jersey Thais, who drew with Malaysia's Under-21 team on Thursday, played higher after the goal with the hope of scoring. The juniors seemed to lose their composure and committed many faults.
In the 87th minute, Vietnamese referee Duong Manh Hung sent off Thailand's Tatong with the second yellow card. The Thai side saw even fewer chances to equalize.
Towards the final minutes, Anh Duc finalized the score with a header about 10 meters from the Thai goal.
The Vietnamese champions earned a cash prize of US$10,000. U-21 Thailand got US$5,000 and U-21 Malaysia, who lost 0-4 to Viet Nam on Tuesday, pocketed US$3,000.
Tournament's results
Tuesday, Viet Nam vs. Malaysia: 4-0
Thursday, Malaysia vs. Thailand: 0-0
Saturday, Viet Nam vs. Thailand: 2-0