Viet Nam opened the ASEAN Women's Football Championship 2006 with a single-goal stunning win over hot favorites Taiwan at a match in Ho Chi Minh City on May 29.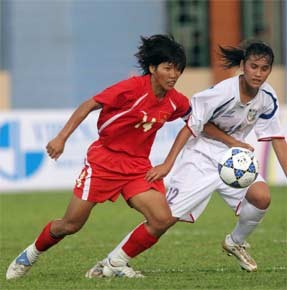 Viet Nam captain Doan Kim Chi (L) faces a Taiwanese player (Photo: SGGP)
It is considered a historic victory because the Vietnamese women had never defeated the Taiwanese women before, and Vietnamese fans expect the win to facilitate their beloved squad on the way to take the trophy. 
 
Taiwan played pressing in the first 20 minutes of the first half of the match at Thanh Long Stadium, making the crowd heart-stopping. Unfortunately their aggressive attacks and powerful shots towards the Viet Nam goal did not push them ahead.

After a slow start, the all-red Vietnamese recovered and set up equality later in the first half.

Entering the second half, hosts Viet Nam, who were the champions of the Southeast Asian Games in 2001, 2003 and 2005, succeeded in pushing the Taiwanese women into a defensive situation in some moments. Viet Nam took the lead after Hai Anh scored in the 65th minute. Taiwan failed to equalize in the rest of the match, and they could not demonstrate much besides a missed scoring chance near the final whistle.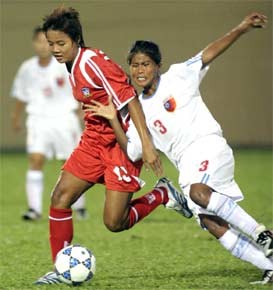 A Myanmar player (in white) fights for the ball with a Thai (Photo:SGGP)
The next match saw Thailand beat Myanmar 3-2. Few people thought of a win for Thailand, because the Myanmar women had never lost to the Thais before and they are deemed to be stronger.
 
Suphonthip pushed Thailand ahead just 15 minutes after the kick-off. Taiwan equalized with a goal by Mar Wann in the 28th minute.
After the break, the game took play under the rain and three goals were scored – one for Myanmar and two for Thailand. Aye netted for Thailand in the 75th minute but Pitsamai re-set the score equality just two minutes later. Just in the next minute, Sunisa's goal brought three points and the tournament's lead to Thailand.
Viet Nam suffered from a loss in the opener because goalkeeper Kieu Trinh has to say goodbye to the tournament due to her serious knee injury. The Viet Nam coach reported the case to the ASEAN Football Federation and asked for a substitute.
The tournament sponsors, Saigon Jewelry Co. and Viet Nam's Eximbank, presented a VND20 million bonus to the Viet Nam team after their good start. Mr. Quach Thanh Lai, the boss of Thanh Long Stadium gave out his VND30 million. Viet Nam Football Federation vice chairman Le Hung Dung gave his VND5 million to the team and VND2 million to goalkeeper Kieu Trinh.
On May 31, Viet Nam will play Thailand and Taiwan will meet Myanmar.

Related article
ASEAN Women's Football C'ship To Open in HCMC