October 28, Vietnamese athlete Nguyen Van Long shocked the region finishing first among Southeast Asian teams in the Nairobi leg of the Greatest Race on Earth (GROE).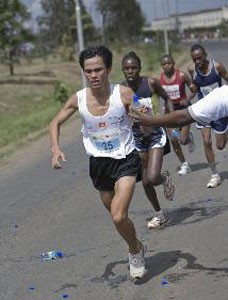 Athlete Nguyen Van Long on the race

In current GROE 2007/08 standings, Nguyen Van Long holds 15th place with a time of 2 hours, 44 minutes, 7 seconds. Overall first, in 2 hours, 21 minutes, 5 seconds went to David Kipkorir Ruto of Kenya.
Next December 12, Sportman Nghiem Xuan Chung will run the Singapore leg and, next year, Dang Duc Bao and Bui Van Toan will compete in the Mumbai and Hong Kong legs, January 20 and February 17, respectively.
At the last leg, Viet Nam won US$5,000 and third prize in the Southeast Asian Group behind Thailand and Indonesia.
The GROE has expanded markedly since its birth in 2004. Sponsored by Standard Chartered Bank, the four-city marathon spans some of the world's most challenging urban running environments.
The GROE symbol, a gold baton, is a 9-carat, 300-gram, solid gold trophy awarded to winners of the Nations Challenge Men and Nations Challenge Women. Each winner also receives US$100,000.