The Vietnamese Pencak Silat team won the first Southeast Asia Pencak Silat championships wrapping up in Ho Chi Minh City Monday with 13 golds, 5 silvers and 4 bronzes.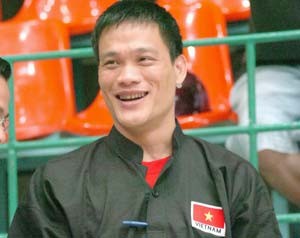 Viet Nam coach Nguyen Xuan Hai, who has won the 1st Southeast Asia Pencak Silat championships with his team (Photo: SGGP)
In the women's categories, Vietnamese players snatched seven golds. The medals came from Le Thi Phi Nga (under 50kg), Huynh Thi Thu Hong (under 55kg), Nguyen Thi Phuong Thuy (under 60kg), Le Thi Kim Thanh (under 65kg), Nguyen Thi Diem Trang (under 72kg), Nguyen Thi My and Nguyen Thi Binh.
The six other golds went to Nguyen Minh Khoi (under 60kg), Le Cong Nghiep (under 65kg), Dinh Cong Son (under 75kg), Truong Van Mao (under 80kg), Le Sy Kien (under 85kg), Trinh Hai Vuong (under 90kg) and Tran Huynh Thanh Quoc (under 95kg) in the men's categories.
Malaysia came second after the hosts, earning five golds, five silvers and four bronzes. Taking two golds, four silvers and five bronzes, the Philippines ranked third, followed by Singapore with one gold, seven silvers and nine bronzes, and Brunei with one gold, three silvers and five bronzes.
The tournament, which drew the participation of the five countries, was co-organized by the International Pencak Silat Federation, the Viet Nam Pencak Silat Federation and the Ho Chi Minh City Sports Department. It provided a test for the Vietnamese Pencak Silat squad before the 25th SEA Games and the Asian Indoor Games in 2009.