Viet Nam's billiard player Duong Anh Vu and chess player Ngo Lan Huong excellently grabbed two gold medals in Asian Indoor Games 2007 (AIG) yesterday.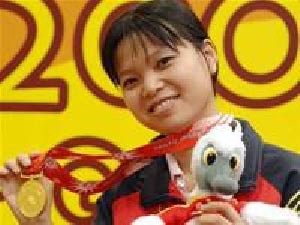 Vietnamese chess player Ngo Lan Huong and her gold medal
The chess women's division final ended with the draw result between the host player Len Lichun and Vietnamese player Ngo Lan Huong. However due to the bonus point, Ngo Lan Huong finally got the first prize.

In the Men's Division, Nguyen Vu Quan also won one silver medal for Viet Nam, following the host.

At the same time, Duong Anh Vu romped into the final of the Men's One-Cushion Carom Singles of Billiard's event with an emphatic 150-94 win over his teammate Nguyen Si Tuong.

Moreover, Nguyen Vu Quan and Nguyen Thanh Bao also pocketed one bronze medal in Men's Division and one silver in Team's Division of Chess

The result of Viet Nam yesterday was two gold, four silver and seven bronze medals pushing Viet Nam up to the ninth position on the AIG's Standings.

On the current AIG's Standings, China, Thailand and Japan have taken the top places.

The 2nd AIG which was firstly inspirited by Olympic Council of Asia, has been held in Macau, China, from October 26, 2007 to November 3, 2007.

It gathered 45 countries to compete in 140 events in 15 sports, most of which have taken place at the Macao East Asian Games Dome.