Third-ranked Viet Nam pulled off an upset 3-1 win over defending champions Myanmar as the Asian women's football championship kicked off Wednesday.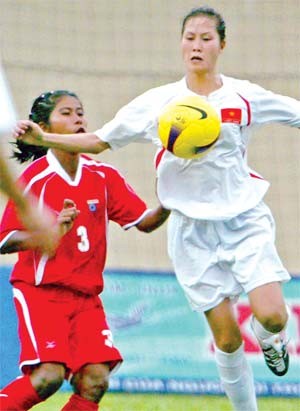 Viet Nam's Ngoc Cham (R) easily passes the defense line of Myanmar
The match played at Ho Chi Minh City's Thanh Long stadium started with local fans fretting over the replacement of injured striker Kim Chi by midfielder Minh Nguyet, especially the latter's ability to combine well with Mai Lan in the center.
 
But the Vietnamese women did not disappoint and came out aggressively. Their repeated attacks forced Myanmar to fall back in an effort to protect their goal.
 
Viet Nam opened the scoring in the 22nd minute when Nguyet broke through to pass the ball to Ngoc Cham to score.
 
The goal seemed to buoy the Vietnamese who began to mount speedy attacks through left-winger Van Thi Thanh and right-winger Kim Hong. But the Myanmarese defense held out for the rest of the first half.
 
In the second half Viet Nam coach Tran Van Phat decided to change strategy. The team held back a bit and slowed down the tempo of the game.
 
This was the cue for their opponents to attack. But this meant holes began to appear in the Myanmar defense which the Vietnamese soon punished.
 
In the 64th minute striker Mai Lan took a pass from Minh Nguyet, quickly passed it on to midfielder Ngoc Cham who slammed in Viet Nam's second goal. It had seemingly been a masterstroke by coach Phat to ease up on the attacking.
At this point, Myanmar decided to throw everything into attack and scored within six minutes. Kieu Chinh seemed a bit confused by a speedy attack by the Myanmarese and misread a powerful shot by Aye Nandar Hlaing to let the ball in.
 
Myanmar had a golden opportunity to even the score in the 77th minute when Viet Nam's fullback Nguyen Thi Nga knocked over Khin Malar Tun. Off the resultant penalty, San San Thein's shot was expertly saved by Chinh
 
In the dying minutes of the match, the Vietnamese seemed to tire and pulled up sharply. Kim Tien came in to strengthen the defense, a decision that helped keep the Vietnamese goal safe.
 
Off an unexpected counterattack, fullback Nguyen Thi Nga set off on a solo run and fired a volley home to make it 3-1.
 
In another match, Laos scored a shock 1-0 win over Indonesia.
 
There are two matches scheduled today. Australia take on Thailand and Philippines play Singapore, both at Thanh Long stadium.
 
Related articles:
VN hopes high as regional women's football contest gets underway