The Viet Nam women's football team are undertaking a training session in Ho Chi Minh City to prepare for Women's Asian Cup qualifiers this month here with belief of good performance.
The defeats in their recent training tour of China have not dampened their spirit for the Asian Cup qualifiers, to be staged the Thanh Long Sports Complex on 24-28 March.
 
Chinese-born coach Chen Yun Fat said, "In spite of the defeats during the 10-day training in Kunming City, we have has made a lot of progress."
The Vietnamese women have been placed in a tough Group A together with Southeast Asian reigning champions Myanmar, Taiwan, and Iran. The Group B teams are Thailand, Republic of Korea, the Philippines and Malaysia. Their qualifying venue is the King's 80th Birthday Anniversary Stadium in Korat, Thailand. Only the top two teams from each group will make the final round of the 2008 Women's Asian Cup, which will be held from May 28 to June 8 in Malaysia.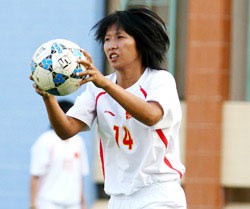 Doan Thi Kim Chi during a training session at Thanh Long Sports Complex in HCMC
Good news for Viet Nam is captain Doan Thi Kim Chi has decided to join the national squad again. After the team lost to Thailand in the final of the 2007 Southeast Asian Games last December, the playmaker announced a leave. On March 4, she won the 2007 Golden Ball title in an annual vote held by Sai Gon Giai Phong newspaper. Two days later she told coach Chen Yun Fat, who had earlier asked her about any re-thinking, about her decision. 
 
Chi, who also won the title for 2004 and 2005, has been the most important player in the national team in recent years. 
Viet Nam will host the 2008 ASEAN Women's Championship in Ho Chi Minh City in October. The home team, defending champions Myanmar, Indonesia, Malaysia and Laos are in Group A, while Australia, Thailand, Singapore and the Philippines will compete in Group B.
This is the third time the ASEAN Football Federation has assigned Viet Nam to organize the regional women's championship.
At the ASEAN women's tournaments in 2004 and 2006, both held in HCMC, Vietnam finished second and first respectively. They came third last year, when the championship took place in Myanmar.