Ten Vietnamese teams and one from Thailand will compete in the Ha Noi-Vientiane-Ho Chi Minh City Cycling Race 2006, held by Ho Chi Minh City Television (HTV), from April 9 to 30, the organizers announced March 29.
The Vietnamese teams are An Giang Plant Protection, Saigon Plant Protection, Ben Tre, Can Tho, Domesco Dong Thap, Ha Noi, Hue, Military Zone 7, Saigon Agriculture, and Vinh Long. The foreign team is Thai Royal Air Force. Some teams have six cyclists each, while others have five.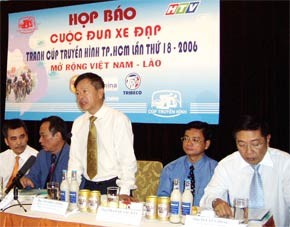 The organizers provide information about the race at the press meeting (Photo: Tuong Thuy)
The Vietnamese teams include cyclists of the national squad, Nguyen Hong, tournament director and vice president of the Viet Nam Cycling Federation, said at a press meeting in Ho Chi Minh City.

Mr. Hong, manager the HTV Sports Division, said the organizers of the 18th HTV Cycling Race did not invite Korean cyclists to this premier race of Viet Nam this time, the first time the race has been extended to neighboring Laos since its inception in 1988. HTV considers this tournament the groundwork to organize a Ha Noi-Vientiane-Bangkok-Phnom Penh-Ho Chi Minh City competition in 2008 for the 20th anniversary of the race.
Mr. Hong added the organizers invited a Cambodian team but Cambodian sports officials said their cyclists are not strong enough to ride long distances, and would take training sessions to prepare for the 2008 race, which will go through Cambodia.
The 2006 race will comprise 19 stages of 2,271 kilometers in all. The race will kick off in Ha Noi on April 9 and finish in Ho Chi Minh City on April 30, the Liberation Day, as usual.
On April 14, the tournament delegation will have cultural exchanges with Laotians on the occasion of the Laotian New Year. The activities will be broadcast live on Laos' and Viet Nam's national channels – the live TV sites will be Ho Chi Minh City and Vientiane. 
Schedule

Stage 1: April 9, 42 km in Ha Noi
Stage 2: April 10, Ha Noi to Thanh Hoa, 146 km
Stage 3: April 11, Thanh Hoa to Nghe An, 132 km
 (April 12: moving from Viet Nam's Nghe An to Paksan, Laos) 

Stage 4: April 13, Paksan to Vientiane, 141 km
Stage 5: April 15, Vientiane to Paksan, 141 km
Stage 6: April 16, Paksan to Thakhet, 189 km
Stage 7: April 17, Thakhet to Savanakhet, 134 km
Stage 8: April 18, Muong Phin, Laos to Quang Tri, Viet Nam, 152 km

Stage 9: April 20, 42 km in Hue City
Stage 10: April 21, Hue to Da Nang, 110 km
Stage 11: April 22, Da Nang to Quang Ngai, 128 km
Stage 12: April 23, Quang Ngai to Quy Nhon, 175 km
Stage 13: April 24, Quy Nhon to Tuy Hoa, 101 km

Stage 14: April 25, Tuy Hoa to Nha Trang, 120 km
Stage 15: April 26, Nha Trang to Phan Rang, 102 km
Stage 16: April 27, Phan Rang to Da Lat, 110 km
Stage 17: April 28, 51 km in Da Lat
Stage 18: April 29, Da Lat to Bao Loc, 101 km
Stage 19: April 30, Bao Loc to Ho Chi Minh City, 154 km