Sai Gon Giai Phong newspaper, the organizer of the annual Golden Ball Vote, on Wednesday presented the titles to three female players who have been voted the best last year.
Sai Gon Giai Phong Deputy Editor-in-chief Hoang Van Khang and the Vietnam Football Federation's deputy general secretary Duong Vu Lam handed out the Golden Ball, Silver Ball and Bronze Ball titles to three players of the women national team, who beat Taiwan 3-1 in a Group A match in the qualifying round of the 2008 Asian Cup.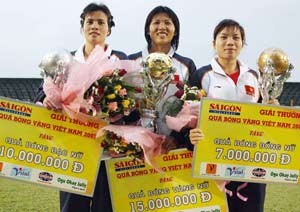 (From L) Dao Thi Mien, Doan Thi Kim Chi and Tran Thi Kim Hong receive the Silver Ball, Golden Ball and Bronze Ball at Thanh Long Stadium on Wednesday. (Photo: SGGP)
Doan Thi Kim Chi, captain of the national squad, won the Golden Ball title with 420 points in the vote. Dao Thi Mien earned the Silver Ball with 237 points, and Tran Thi Kim Hong obtained the Bronze Ball with 52 points.
The captain said she got double happiness as she scored one of the three goals for her team in their game with Taiwan at Thanh Long Stadium in HCMC. Striker Nguyen Thi Ngoc Cham was the author of the two other goals of the home side. In the later match in Group A, Myanmar beat Iran 2-1.
Kim Chi also obtained the Golden Ball title for 2004 and 2005.