Vietnam ended Thailand's long time dominance at the biennial Games to lead with 17 gold, 11 silver and six bronze medals.

Apart from pocketing seven gold medals more than their target, the Vietnamese also set two SEA Games and five national records.
This is the first time that Vietnam are the overall athletics champions since the Games began in 1959.
Thailand, who have been on top since 1989, were second with nine titles, followed by the hosts, who ended their best-ever Games in history with eight gold medals.
"At the previous SEA Games, Thailand won 11 golds, while Vietnam only had 10 at the 27th Games, and 11 at the 28th event. This year, with 17 titles, Vietnamese athletes made magic in Kuala Lumpur, and for the first time outclassed their archrivals to be No 1," Nguyen Manh Hung, general secretary of the Vietnam Athletics Federation, told Việt Nam News.
"Based on this positive result, we can say Vietnam athletics has reached the Asian continent-level. It has resulted from our long-term strong support to athletes," Hung said.
New sprint star Le Tu Chinh was the most impressive, scoring a hat-trick at the age of 20 at her first SEA Games.
Chinh claimed her first gold in the 100m event with a time of 11.56sec. She made a stunning run, distancing herself from the rest of the pack from the start of the race to finish first, making her the fastest woman in ASEAN.
Vietnam had lost the title to Kayla Anise Richardson of the Philippines in Singapore in 2015 when so-called "sprint queen" Vu Thi Huong retired. Huong earlier won the race four times in 2005, 2007, 2009 and 2013, and was third in 2003 and 2011.
Chinh from HCM City, meanwhile, continued to attract people's attention with an easy win in the 200m race the next day. Her time of 23.32sec was only 0.02sec less than the Games record.
"We have not seen such an impressive run in the last four years, after our best runner (Vu Thi) Huong. This is the best result ever at the SEA Games," Duong Duc Thuy, chief of the Athletics Department of the Vietnam Sports Administration, said.
Chinh became the first Vietnamese to complete a hat-trick on August 25. She teamed up with Le Thi Mong Tuyen, Do Thi Quyen and Tran Thi Yen Hoa to make history, winning for the first time the 4x100m race and setting a new record with a time of 43.88sec.
The quartet erased the previous mark of 44.00 set by defending champions Thailand in Myanmar in 2013.
It was a sweet result for the runners, who gathered together just three weeks ahead of the Games to practise. Earlier, Chinh was in HCM City focusing on her 100m and 200m, while her three teammates were in Hanoi practising the three-leg relay.
After their win, Tuyen said: "We are really excited to move ahead of Thailand, who dominated this event for many years. We ran the best we could and are now enjoying the sweet taste of victory."
"It is my third gold, but I am just as happy as if I've won my first medal. It is unbelievable that I have won three gold medals here," Chinh said, who not only made headlines in the national media, but also attracted the attention of international journalists.
Malaysian thestar.com.my called her the one to chase in Southeast Asia."Sprinter Le Tu Chinh is clearly the new poster girl of the Kuala Lumpur SEA Games," it reported.
"The Games debutant is not just a pretty face. She's pretty darn fast too – with her three-gold feat making her the undoubted star of the Vietnam athletics squad and the KL Games."
Meanwhile, Nguyen Thi Huyen also made an impression at the Bukit Jalil National Sport Stadium.
Huyen strongly defended her titles in the 400m, 400m hurdle and 4x400m categories. She set a new personal best and Games record of 56.06 in the 400m hurdle.
The 24-year-old defending Asian champion ran well ahead of her competitors in all races, leaving the rest athletes way behind while she reached the finish line.
The relay gold was the 17th for Vietnam, helping the athletics team complete their medal collection, with the female athletes taking 13 golds, 10 of them in track events from 100m to 5.000m.
A fairy tale story was experienced by runner Nguyen Thi Oanh, who claimed a silver in the 3,000m steeplechase in Myanmar in 2013.
In Malaysia this year, her favourite event was not organised so she had to switch to the 1,500m and 5,000m, both of which she had never practised before.
However, it was a piece of cake for the 22-year-old as she won both events, defeating long time defending champion Triyabingsih of Indonesia in the 5,000m.
Yen Hoa was also a surprise for Vietnam. After winning the 4x100m event, Hoa participated in the 100m hurdle. It was 14 years since Vietnam's last time in the top three, with the last medal a silver for veteran Vu Bich Huong in 2003.
However Hoa, who was not expected to win, made a bang, completely dominating the race and winning with a time of 13.40sec.
It was the first 100m hurdle gold for the country after 22 years since Huong's victory in the 18th Games in 1995.
The country also produced some impressive results in other events.
Bui Thi Thu Thao leaped 6.68m to win the long jump, while Vu Thi Men reached 14.15m to take the triple jump -- both national records. Vu Thi Ly secured her first 800m event medal in her third time participating, while Duong Viet Anh returned to the top after years of struggling with injury.
On the men's side, Duong Van Thai earned his sixth SEA Games gold, winning the men's 800m (1:48.97) and 1500m (3:51.44) double.
Later, Nguyen Văn Lai defended his 5.000m title with a time of 14:55.15.
Bui Van Dong, who was added to the Vietnam SEA Games delegation at the last minute, meanwhile, did not disappoint, making a long jump of 7.83m in his fifth attempt and bringing home a gold at his Games debut.
"We have prepared for this dethronement for 10-12 years. We had young quality athletes compete at the Games. They will be our weapons at upcoming events," Thuy said, also revealing that if things had gone completely according to plan, the number of gold could be 20.
"Previously we just had athletes sent to the Olympics as wildcards. But in the two recent Olympics we secured two official berths. It is due to our effective long-term plan to improve athletes' quality," he said.
Thuy was ecstatic with the win but did not forget it was important to plan for bigger tournaments, including the Asian Games (ASIAD) and the Olympics.
"I have dreamed of an ASIAD gold. We have potential medalists such as long jumper Thao, whose recent result was better than the ASIAD gold medalist, and she is getting even better," he said.
Athletes Chinh and Huyen also shared the opinion, saying they would try their best to maintain their regional position, which would make them more confident for these big events.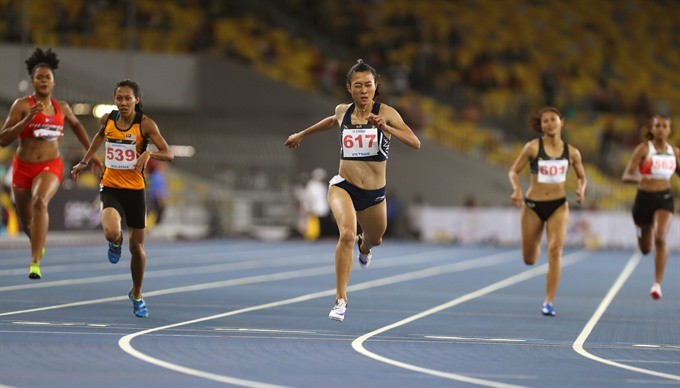 Vietnamese Le Tu Chinh (centre) wins women's 100m 200m, 4x100m event at the 29th SEA Games which closed in Malaysia on August 30. (Photo: VNA/VNS)