Vietnam achieved their first win at the AFC U14 Regional Festival of Football after beating Myanmar 3-1 in the second Group A match on July 27 in Brunei.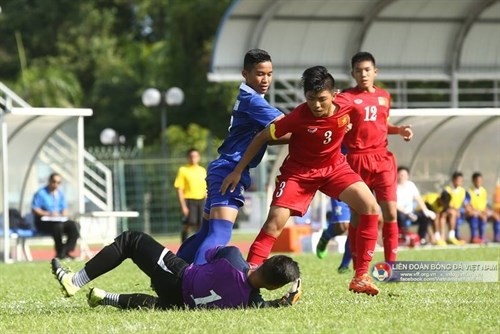 The U14s of Vietnam (in red) beat Myanmar 3-1 in their Group A's second match during the AFC U14 (Photo: vf.org.vn)
After several missed opportunities, Tuan Duong opened the score for Vietnam in the 15th minute. Quoc Hoanh netted two more goals to push Vietnam ahead before the break.
Myanmar did their best to narrow the result in the last minute.
Earlier in the day, Thailand beat Singapore 10-1.
Vietnam, who lost 1-2 to Thailand in the first match on July 27, will play host Brunei on July 29.
The AFC U14 Regional Festival of Football is taking place from July 26 to 30 at two venues, which are the Berakas Sports Complex and the Track and Field Sports Complex.