Vietnam stunned Republic of Korea 1-0 on Nov. 6 in Thailand's Bangkok in the qualifying round of the Asian U19 football championship 2010, pining high hopes on a berth in the final round.

Minh Tuan's late goal in the match brought to Vietnam's U19 team a surprising defeat of Asian powerhouse Republic of Korea.

Playing against the strongest team of group E, Vietnam had to focus on defending and rely on counter-attacks. Tuan finally put Vietnam ahead with a free kick a few minutes before the final whistle. The remaining time was too short for the Korean side to change the score.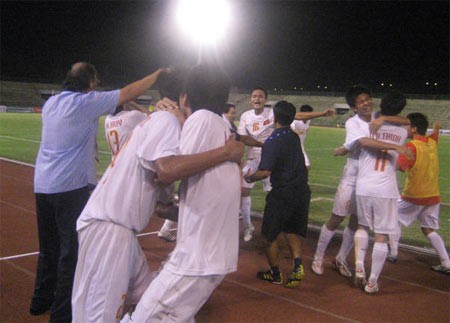 Vietnam's U19 team celebrate their 1-0 win over U19 Korea in an Asian championship qualifier in Thailand's Bangkok on Nov. 6 (Photo: Vietnam Football Federation)
The victory paved the way for Vietnam to next year's final round. The top two teams of each group will qualify for the finals.

Vietnam will play two more games against hosts Thailand on Nov. 8 and Macau three days later. The hosts will play Korea also on Nov. 11, and this is a hard game for the Thais because Korea, after their defeat to Vietnam, want to win their rest two games.

The other teams in group E are Bangladesh and Laos.

Also on Nov. 6, Thailand defeated Bangladesh 3-0, while Laos stumbled 3-4 to Macau.

After the Nov. 6 matchday, Thailand ranked first in the group with nine points after three games. Vietnam, also with nine points, were second due to goal difference. Republic of Korea ranked third with six points, followed by Macau (three points). Both Bangladesh and Laos got zero points.