Vietnam stunned hosts Thailand by a 1-0 win in their AFC U-16 Championships qualifier on Sunday in Bangkok.
The visiting side under coach Hoang Van Phuc played with their counter-attack plans during the Sunday match, which followed Vietnam's lost 1-2 to North Korea two days earlier.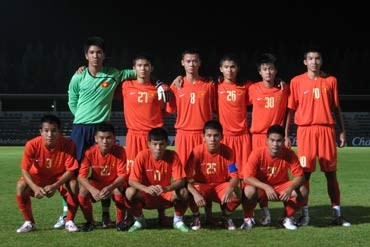 The U-16 team of Vietnam (Photo: Vietnam Football Federation)
The hosts sought to drill through their opponents' defense system all the time but in vain. The only goal in the game came in the 75th minute when Vietnam's Vo Ngoc Duc and Nguyen Do attacked from a wing and crossed the ball to Xuan Nam, who headed to score.
Thailand played more aggressively after the goal but Vietnam secured to keep their net clean.