Vietnam suffered a 2-6 defeat to Turkmenistan on Wednesday in Group B of the Asian Games football tournament in China's Guangzhou while Iran secured the group's lead with a 1-0 win over Bahrain.
Vietnam, who beat Bahrain 3-1 in their opener also at the Guangdong People's Stadium on Monday, did not start the Wednesday game on counter-attack tactics as they had done two days earlier.
Meanwhile Turkmenistan, who lost 1-4 to 2002 champions Iran in their opening game Monday, played low and used counter-attacks. This resulted in two goals in the first half.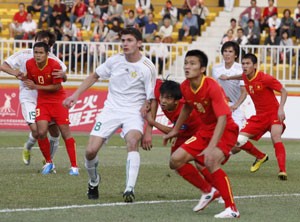 Vietnamese players (in red) during a defense moment against the Turkmen in their Wednesday game in the China Asian Games football tournament (Photo: SGGP)
Desiring a point in the second game, Vietnam continued to play aggressively after the break. The left and right defenders played very high and often left big holes behind them. Rapid Turkmen players made use of it and scored four goals in a row.
Vietnam's striker Nguyen Anh Duc and midfielder Nguyen Trong Hoang scored two consolation goals shortly before the final whistle.
Iran took the lead of Group B with six points after two wins, followed by Turkmenistan and Vietnam with three points each. Bahrain were at the bottom with no points.
Iran will take on Vietnam on Saturday and Bahrain will play Turkmenistan.

Asian Games football results on Wednesday:
Group A
Malaysia 0 Japan 2 (Nagai 26, Yamaguchi 64)
China 2 (Lu Wenjun 83, Wu Xi 90+4) Kyrgyzstan 1 (Sidorenko 5)
Group B
Vietnam 2 (Nguyen Trong Hoang 85, Nguyen Anh Duc 87) Turkmenistan 6 (Geldiyev 17, Boliyan 24, 74, Belyh 49, Amanov 62, 83)
Iran 1 (Ansari 45+1) Bahrain 0
Group C
South Korea 4 (Koo Ja-Cheol 21, 44, Kim Bo-Kyung 47, Cho Young-Cheol 78) Jordan 0
Palestinian territories 0 North Korea 3 (Kim Kuk-Jin 8, Choe Kum-Chol 28, Pak Kwang-Ryon 67)

Standings in the Asian Games football tournament after Wednesday's matches (played, won, drawn, lost, goals for, goals against, points):
Group A
Japan 2 2 0 0 5 0 6
Malaysia 2 1 0 1 2 3 3
China 2 1 0 1 2 4 3
Kyrgyzstan 2 0 0 2 1 4 0
Group B
Iran 2 2 0 0 5 1 6
Vietnam 2 1 0 1 5 7 3
Turkmenistan 2 1 0 1 7 6 3
Bahrain 2 0 0 2 1 4 0
Group C
North Korea 2 2 0 0 4 0 6
South Korea 2 1 0 1 4 1 3
Palestinian territories 2 0 1 1 0 3 1
Jordan 2 0 1 1 0 4 1
Group D
Kuwait 2 2 0 0 4 0 6
Qatar 2 1 1 0 2 1 4
Singapore 2 0 1 1 0 2 1
India 2 0 0 2 1 4 0
Group E
UAE 2 1 1 0 4 1 4
Hong Kong 2 1 1 0 2 1 4
Uzbekistan 2 1 0 1 3 1 3
Bangladesh 2 0 0 2 0 6 0
Group F
Thailand 2 1 1 0 7 1 4
Oman 2 1 1 0 4 1 4
Maldives 2 0 1 1 0 3 1
Pakistan 2 0 1 1 0 6 1