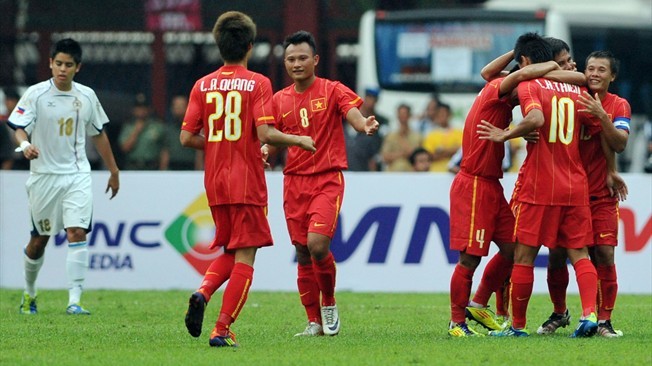 The file photo shows Vietnamese team members celebrating after a goal in a match over Philippines in September.
Although the Vietnamese team did not win a single game and were eliminated from the ASEAN Cup earlier this month, Vietnam got 34 more points to make it to 251 and jump up seven steps to No 131 in the world.
Thailand , who lost 3-1 to Singapore in the first leg of the Cup's final on Dec. 19, is second in the region and 136th in the world. Regional third place goes to the Philippines .
On the women's side Thailand remain the region's leading team and No 30 globally. Vietnam come second at 31st, followed by Myanmar at 47th.
Contributing to Vietnam's rise was a 2-0 triumph over Malaysia in September. In the two sides' prior meeting, the Malayan Tigers emerged aggregate winners in the 2010 Suzuki Cup semi-finals en route to the final, where they prevailed over Thailand to win their first title.
In what proved to be a redemptive outing in Kuala Lumpur, the Vietnamese made full use of their opportunity. Star striker Le Cong Vinh opened the scoring for the visitors through a header on the half-hour mark, before Phan Thanh Hung lobbed home after the restart to gain a measure of revenge.
Vietnam are renowned for producing agile players with deft skills and lightning pace. Legendary former national team striker Le Huynh Duc typically embodying such attributes. Spearheading the current squad is none other than 26-year-old Cong Vinh, who scored the famous stoppage-time goal against Thailand which sealed their breakthrough Suzuki Cup triumph four years ago.
With the ongoing development of the national league, a host of youth talents have come up through the ranks. Most notably, 23-year-old forward Nguyen Trong Hoang has made his name as the country's emerging star. He helped Song Lam Nghe An to the Vietnamese Cup title in 2010, while finishing as Vietnam's top-scorer in that year's Suzuki Cup