Vietnam's Hoang Anh Gia Lai Group transferred the 25th Southeast Asian Games athletes village the company has built in the Laos capital of Vientiane to the Lao Government on September.
A ceremony was held at the SEA Games Athletes Village to inaugurate it and hand it over to the Lao Government.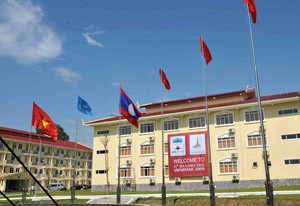 This photo, taken on Sep. 2, 2009, shows the 25th Southeast Asian Games Athletes Village in Vientiane, Laos (Photo: SGGP)
The village will serve as home for the athletes participating in the 25th SEA Games to be held this December.
Addressing the ceremony, Vietnamese Deputy Prime Minister Nguyen Thien Nhan said the village manifests the special friendship and comprehensive cooperation between Vietnam and Laos.
The Deputy PM said the athletes' village is a successful result of Hoang Anh Gia Lai's investment activities in neighboring Laos.
Lao Deputy Prime Minister Somsavad Lengsavat said his government considers the SEA Games Athletes' Village as one of the most outstanding projects in Laos, and Hoang Anh Gia Lai has become a major co-sponsor of the event.
The village, built at a cost of US$19 million, covers 42,000 square meters and is able to accommodate 4,000 athletes. It includes a press center, various meeting rooms, canteen able to serve 1,500 people at a time, and many other facilities. After SEA Games 25, it will become a dormitory for higher education students
Of the cost of US$19 million, Hoang Anh Gia Lai granted $4 million and provided a $15 million no-interest loan.