Local football fans celebrated December 4 after Vietnam's U23 squad beat East Timor 4-0 at the 25th SEA Games in Laos.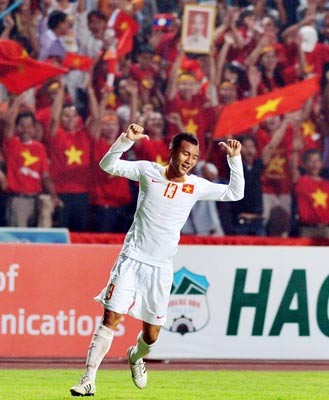 Mai Tien Thanh celebrates after scoring a hat trick in the match between Vietnam and East Timor on December 4 at the SEA Games in Vientiane, Laos. (Photo: SGGP)
Vietnam coach Henrique Calisto brought out a reserve formation for the match, as East Timor is considered the weakest team in group B.
The line-up included goalkeeper Tuan Truong; back players Hoang Quang, Dai Dong, Minh Duc, and Chu Ngoc Anh; midfielders Quy Suu, Nguyen Ngoc Anh, Thanh Hung, and Tien Thanh; and attackers Manh Dung and Dinh Tung.
East Timor did not attack in the first minutes as they did in their first match with Malaysia, and kept up a defensive strategy for most of the game.
Vietnam stayed in control for the duration of the match, but faced difficulty in overcoming East Timor's strong defence.
The first half of the match ended 0-0.
Vietnam played better in the second half and scored the first goal at the 54th minute.
From midfield, Ngoc Anh passed the ball to Mai Tien Thanh who scored the opening goal for Vietnam.
Vietnam proceeded to score two more goals against East Timor at the 55th and 62nd minute.
At the 55th minute, Tien Thanh doubled the score with a super header. Substitute Thanh Binh widened the gap for Vietnam when he used an East Timor defender's mistake to strike the third goal in the 62nd minute.
Only six minutes later, Tien Thanh scored a hat trick after receiving the ball from Thanh Binh.
In the last minutes, East Timor missed an opportunity to score when their forward's shot was stopped by goalkeeper Tan Truong.
Beating East Timor 4-0, Vietnam, together with Thailand who beat Cambodia 4-0 earlier, top Group A after two matches each.
Vietnam will next take on Malaysia in a decisive match December 6 at the Chao Au-vong stadium, in Vientiane, Laos.
At the match between Thailand and Cambodia, Cambodia played well and had many chances to score in the first minutes. But at the 19th minute, Sompong Soled of Thailand began a scoring frenzy.
By the end of the game he had completed a hat trick scoring at the 19th, 44th and 51st minutes, with another goal scored by Keerati Keawsombat at the 43rd minute.
Group B matches will start on December 5, Singapore will meet Indonesia at 3pm and host Laos will meet Myanmar at 5:45 pm. The two matches will be broadcast live on VTV2, HTV2, VTC2, VTC3 and VTC HD3 channels.
Women's football also started December 4 with two opening matches between Thailand and Malaysia, and Laos and Myanmar.
Thailand won easily against Malaysia 14-0 while Laos and Myanmar ended the match in a draw.
Vietnam's women's team will meet Malaysia next at 3:45pm on December 6.
Related news:
Vietnam, East Timor prepare to clash