The Under-23 teams of China, Singapore and Thailand started their training in Hanoi Wednesday to compete in the Vietnam Football Federation Cup, held to help Singapore, Thailand and Vietnam improve fitness for December's Southeast Asian Games.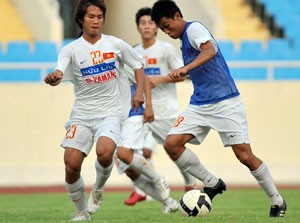 Players of U-23 Vietnam are under training for the Vietnam Football Federation Cup, scheduled November 5 to 9 in Hanoi. The other participating teams are U-23 of China, Singapore and Thailand. (Photo: SGGP)
The three invited teams arrived in Hanoi Tuesday with many young players. They and hosts Vietnam will compete in the friendship tournament in a round-robin format at the My Dinh National Stadium from November 5 to 9.
The Chinese team, in a document sent to the Vietnam Football Federation, said their players are under 21.
A fact is the national squads of Singapore and Thailand will fight against each other in their 2011 Asian Cup qualifiers on Nov. 14 and 18. Therefore, the two countries' U-23 teams in Vietnam do not include their best players, who are busy with their national duty.
The VFF Cup winners will pocket US$25,000 while the first and second runners- up will each win US$10,000 and US$5,000.
The Chinese team will take on the Thais in the first game, followed by the Vietnam vs. Singapore match. The second matchday on Nov. 7 will see Thailand against the Young Lions, then Vietnam play China. Two days later, Singapore will meet China before Vietnam take on Thailand.
The Vietnamese players are coached by Portuguese tactician Henrique Calisto, who won the 2008 ASEAN championship with his Vietnamese national squad.
Singapore are coached by ex-international defender Terry Pathmanathan.
Southeast Asian powerhouse Thailand's SEA Games team are currently under Englishman Steve Darby. They are the hot favorites to win the Games, hosted by Laos.
Vietnam coach Calisto said his players were also looking for the title this time.
The Vietnam Football Federation, the organizer of the VFF Cup, expects the tournament to draw fans to the My Dinh National Stadium as players are supposed to catch the eye of their coaches to break into the SEA Games squads.
The VFF Cup is coincided with the third Asian Indoor Games hosted by Vietnam from Oct. 30 to Nov. 8.