A football team representing Vietnamese underprivileged children arrived in Bangkok Sep. 12 for a friendship tour to Thailand at the invitation of Thai corporation Siamsport.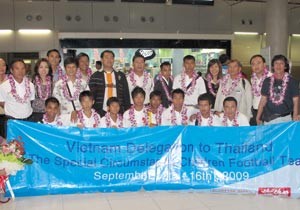 The Vietnam children's football delegation welcomed in Bangkok Sep. 12 (Photo: Duc Bo)
The Vietnamese players, who were selected from this year's Vietnam indoor football tournament for underprivileged children this May, are scheduled to play a friendly game with Thai kids from the Coerver Coaching Soccer Academy on Sep. 13.
The Vietnamese team include six children from Gia Lai team, this year's champions, while the others are from Ho Chi Minh City and Ca Mau Province.
Vietnam's indoor football tournament for underprivileged children started in 1999 and has become an annual event. This year's tournament was the first time Thailand joined and the invited team came third.
Then, Thai corporation Siamsport invited a team from Vietnam to make a Thailand friendship tour.
Dao Quoc Thai, general director of Vietnamese advertising company MC, a co-organizer of the underprivileged children's annual tournament, said the trip was expected to bring about more cooperation chances between Siamsport and the tournament organizers, especially in sports.
The trip will finish on Sep. 16.