The contest between host Vietnam and Korea ended in a 1-1 draw in the second match at the ASEAN Football Federation's U-19 Football Championship at Thong Nhat Stadium on July 26.  Vietnam has now tied with Thailand with two points after two matches.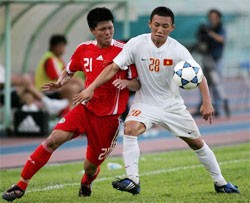 Vietnam team (white) draws Korea 1-1 at the ASEAN U19 Football Championship on July 26. (Photo:Tinthethao.com.vn)
Lee Ki Je opened the scoring for Korea in the 59th minute with a 25-meter free kick.
After the goal, the Vietnamese team created waves of attacks that eventually wore down the Korean side when Nguyen Van Thanh scored with a header in the 92nd minute.
After the match, Vietnam's coach Calisto shook hands with the Vietnamese youth players for their competitive spirit.
The 1-1 draw kept the host within range of reaching the final because Thailand also drew 1-1 with Australia, currently ranked in the top position with four points.
On July 24, Vietnam also drew with Thailand 1-1, while the Aussies edged Korea 1-0.
The Vietnamese team will meet Australia tomorrow, while Thailand will take on Korea.
In the tournament, four teams take part in a round robin competition. The top two teams will play in the final on July 30.