Defeating East Timor's U23 team is Vietnam's next mission December 4 at the SEA Games in Vientiane, Laos.
The match is an important one for Vietnam as it could affect the team's subsequent game against Malaysia on December 6.
Beating East Timor 11-0, Malaysia has created pressure for both Vietnam and Thailand in the race to the semifinals.
If Vietnam wins against Malaysia, Vietnam will advance to the semifinals. If the match ends in a draw, the number of overall goals scored by each team in their matches against Cambodia and East Timor will be added up to determine whether Malaysia or Vietnam moves on.
Vietnam would need to score a minimum of 12 goals in total against Cambodia and East Timor to win in the event of a tie with Malaysia.
Speculation is swirling over whether Calisto will ask his players to take an offensive strategy against Malaysia or focus more on defense.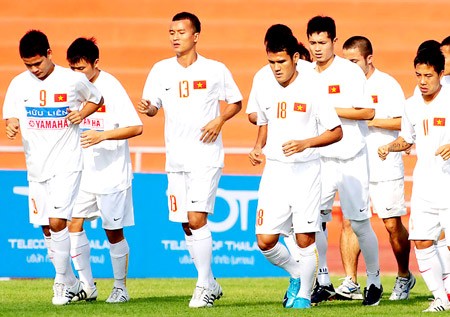 Vietnam's U23 team train ahead of their match with East Timor December 4 at the 25th SEA Games in Vientiane, Laos. (Photo: SGGP)
In any case, Vietnam has the pressure of knowing that Malaysian rivals are confident after scoring a staggering 11 times against East Timor in their first match.
Calisto said he is focusing on creating a comfortable environment to relax his players for the upcoming battles.
However, Vietnam has just one day off to prepare for the match with Malaysia, while Malaysia has three.
According to Calisto, the physical strength of his players is of the utmost importance when they take on the team December 6.
After its first match with Thailand, Vietnam had two injured players – Cong Minh and Thai Duong. Doctors, however, said the two are well enough to join the December 4 game against East Timor.
Calisto, however, has decided Duong will not play in the match.
After missing the first clash with Thailand due to an injury, Trong Hoang may be back in action when Vietnam meets East Timor at the Chao Anu-vong stadium at 5:45 December 4.