The gold medal in men's football at the Southeast Asian Games remains elusive for Vietnam after the national squad, having an impressive run in the group stage, was contained by Myanmar, who got so lucky in the match dominated by Vietnam in every ways.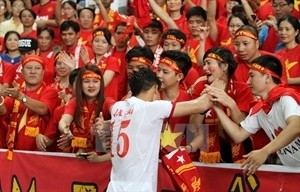 At the final whistle, Vietnamese captain Que Ngoc Hai was in flood of tears at the Kallang National Stadium (Photo: VNA
At the final whistle, the scoreboard was 2-1 on Myanmar's favour and Myanmar coach ran towards to be mobbed by fans and Vietnamese side's captain Que Ngoc Hai was in flood of tears at the Kallang National Stadium in Singapore on June 13 afternoon.
Vietnam were the better side throughout the match, enjoying the abundance of possession and goal-scoring chances but strikers failed to capitalise on.
Surprisingly against the run of play, Myanmar suddenly broke the deadlock in the 39th minute through a penalty.
Ho Ngoc Thang let the ball hit his hand after a free kick from Myanmar and the referee decided to award Myanmar a penalty. Defender Aung Sithu easily sent goalkeeper Phi Minh Long the wrong way to put Myanmar 1-0 up.
Vietnam put more pressure on Myanmar in the rest of the first half but despite a number of opportunities, Mac Hong Quan could not beat goalkeeper Phyo Kyaw Zin.
The second half happened much as it had been in the first half. Vietnam controlled the match and Myanmar sat deep to protect their one goal advantage.
All actions of the match only took place only on Myanmar's half and Vietnam finally got the goal it deserved in the 71th minute.
From a long pass, Mac Hong Quan got the ball and fed unmarked Nguyen Cong Phuong who tried to direct his shot to the far corner only turned away by goalkeeper Phyo Kyaw Zin but winger Vo Huy Toan appeared at the right place on the right time to put the loose ball into the net.
The joy of Vietnamese players and hundreds of fans lasted just eight minutes and fortune smiled on Myanmar again.
From a quick attack on the right wing, which seemed to be far from a threat for keeper Long and Phyo Ko Ko Thein just tried his luck with a shot from an angle but Nguyen Thanh Hien intercepted and the ball deflected from his legs and surprised Long at the high corner of the net.
The second goal really took away the adrenaline of Vietnamese side and Myanmar were soon back to their defensive way and this time they were able to protect their narrow win.-VNA