The Vietnamese contingent have clinched a total of 288 medals, including 96 golds, from the Southeast Asian Games in Indonesia to rank third after the hosts and Thailand.
The closing ceremony of the 26th SEA Games was held in Palembang Tuesday night, wrapping up 11 official competition days. Indonesia achieved 182 golds, 151 silvers and 142 bronzes. Thailand obtained 109 golds, 100 silvers and 120 bronzes.
Vietnam, in addition to 96 golds, won 92 silvers and 100 bronzes.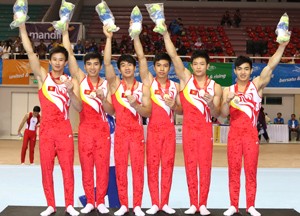 The men's gymnastic team of Vietnam win gold medals in the men's event in SEA Games 26 in Indonesia (Photo: Chi Bao)
Malaysia came fourth with 59 golds, followed by Singapore with 42 golds, the Philippines with 36 golds.
Earning 16 golds, Myanmar ranked seventh. Laos were eighth with nine golds. Cambodia won four golds to come ninth, followed by Timor Leste with one gold. Brunei were the last, winning four silvers and seven bronzes.
This year's SEA Games 26 had 43 sporting events with 545 sets of medal in all.
Myanmar will host SEA Games 27 in 2013.