Vietnam came out fourth at the seventh ASEAN Para Games, which closed at Myanmar's capital city of Nay Pyi Taw on January 20.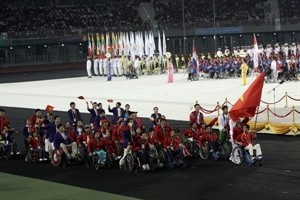 The Vietnamese delegation at the closing ceremony (Photo: VNA)
The country's athletes won a total 48 gold, 65 silver and 72 bronze medals. Head of the Vietnamese delegation Vu The Phiet said it was a successful competition for Vietnam as the athletes had set several ASEAN, Asian and even world Para Games records.
Indonesia took the top position for the first time in the Games' history with 99 gold, 69 silver and 49 bronze medals. Thailand, which has dominated the regional Para event for more than a decade, dropped to second with 96 golds, 82 silvers and 70 bronzes. Malaysia was third, bringing home 50 golds, 49 silvers and 41bronzes).
Myanmar ranked fifth with 34 golds, 26 silvers and 36 bronzes, followed by the Philippines (20 golds, 19 silvers, 21 bronzes), Singapore (7 golds, 10 silvers, 10 bronzes), Cambodia (3 golds, 4 silvers, 2 bronzes), Brunei (2 golds, 3 silvers, 7 bronzes) and Laos (3 silvers and 3 bronzes).-VNA