A Vietnam Football Federation irregular meeting Thursday agreed it would end the contract with coach Falko Goetz following the Vietnamese U-23 team's poor performance in the Southeast Asian Games in Indonesia last month.
The German coach was not present at the unusual meeting as he taking vacation in his country.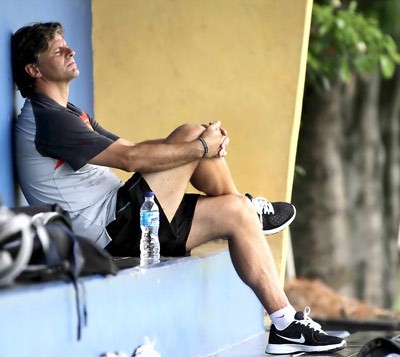 (Sai Gon Giai Phong file) German coach Falko Goetz during the time he worked in Vietnam
VFF said during the meeting that the final decision would come out after the National Couching Council has its official voice.
VFF is of the view that the German coach has to be responsible for the U-23 team's poor performance in the SEA Games, where they came fourth after a humiliating loss 1-4 to Myanmar.
VFF vice chairman Pham Ngoc Vien said at the meeting that the National Couching Council had made suggestions on a contract between Goetz and VFF, which named him the national coach in June this year. He later on served as the coach of the U-23 team in the SEA Games campaign.
Under his contract, a cancellation of the contract means VFF has to pay him salaries for three months.
Just before the meeting, VFF general secretary Tran Quoc Tuan tendered his resignation following the team's humiliating defeat in the Games, where he served as the football delegation head.
However, the meeting still agreed to keep him in the position.
Reportedly, he wrote in his resignation letter that he preferred to return to his former work at the General Department of Sports and Physical Training or the Institute of Sports Sciences and Medicine.
Before taking up his post at the VFF in 2005, he was vice director of the institute.
It is VFF regulations that only the chairman of the country's football governing body has the right to appoint or replace a person for the general secretary position.