Coach Hoang Van Phuc has selected 26 players for the national football team meeting on Monday in Hanoi, in preparation for their match with Hong Kong in the 2015 Asian Cup qualifying round.
Overseas Vietnamese players Mac Hong Quan and Michal Nguyen are among the squad.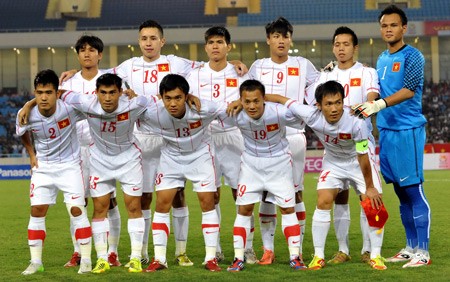 Vietnamese team in the match with UAE team (Source: SGGP)
Goalkeeper Thanh Binh and centre backs Quoc Anh and Nguyen Sa of SHB Da Nang will join the team later after fulfilling their club duties in the AFC Cup against Maziya Sports today.
Closely watching the style of striker Le Cong Vinh and many potential players, coach Hoang Van Phuc assured he did not want to disrupt the stability of the Vietnam team at this time.
Thus he did not choose Cong Vinh, a player who had contributed much in the past success of Vietnam football team for the match.
Phuc also set targets before the trip to Hong Kong—to beat the home team and win the first three points in the first round of the Asian Cup 2015.
The team will leave for Hong Kong on March 20 where they will meet their hosts two days later.
In their first match of the Asian Cup qualifiers last month, Vietnam lost to the United Arab Emirates 2-1.