Yesterday, the first matches of Round 1 of San Miguel Asian 9 Ball Tour were played at Nguyen Du Hall with a lot of surprises.
As Ms. Diana Chan stated on the press conference one day earlier, " Everything can happen in this year's San Miguel 9 Ball Tour." Some Vietnam leg's seeds were stopped at the first round when they lost their games to Vietnamese players.
On the table that was going live on local TV, Vietnamese Nguyen Phuong Thao played against the second seed Chao Fong Pang,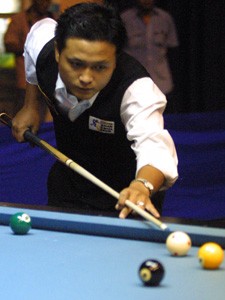 Nguyen Phuong Thao in the winning match over Chao Fong Pang, 2000 World Pool Champion
once the 2000 World Pool Champion.  Nguyen Phuong Thao won the first race right after Chao Fong Pang failed the first break. Continuously in the following races, Nguyen Phuong Thao with accurate cues and regular manner came over Chao Fong Pang to seal the final score 8 – 4 to book a place in the quarterfinal, that will take place the following day.
Together with Nguyen Phuong Thao, cueist Nguyen Phuc Long from Hanoi also won the second seat for Vietnam in the quarterfinal. His success seemed to be the most unexpected but fabulous victory for Vietnam.  Nguyen Phuc Long had been called up in the last minute to fill the vacancy left by the Indian player, who was unable to participate in the event due to his illness. He convincingly defeated the Tour's No. 1 seed, Alex Pagulayan, World No. 12 at 9 -8 and Imran Ibrahim of Indonesia at 9-2 .
Other Vietnamese players were unfortunately knocked out after the first round.  Today, the 9 Ball Tour will be proceeding with four quarterfinal matches, which will be telecasted Live on ESPN STAR SPORTS.