After securing six more gold medals in weightlifting, billiards and Karatedo on December 12, Vietnam remains at the top of the medals table at the 25th SEA Games in Laos.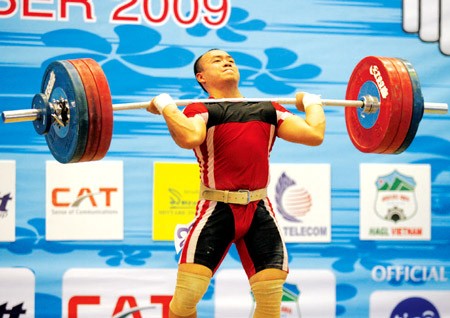 Caption: Vietnamese weightlifter Duong Thanh Truc brought home gold in the men's 77 kg division on December 12 at the 25th SEA Games in Vientiane, Laos. (Photo: SGGP)
With a total of 20 golds, Vietnam is followed by Thailand with 19 gold and Singapore with 14 gold.

In weightlifting, Vietnam's Duong Thanh Truc took gold in the men's 77 kg division and compatriot Nguyen Thi Phuong Loan followed suit winning gold in the women's 69 kg division.

In billiards and snooker, Vietnam's Do Hoang Quan and Luong Chi Dung defeated Ricky Yang and M. Zulfiki of Indonesia in the final of the men's 9-ball double to obtain gold. It is the first gold medal Vietnam has ever achieved in this SEA Games event.

Dang Dinh Tien also brought home gold when he beat fellow countryman Cao Thanh Truc in the final of the men's one-cushion carom single. He easily defeated his rival Rodolfo Luat from the Philippines in the semifinals.

Vietnam's Karatedo team, meanwhile, attained two more gold medals thanks to artist Vu Thi Nguyet Anh who came first in the women's kumite 50 kg event after defeating her Indonesian rival. Another gold was won by Vietnam in the men's team kumite event.