A 1-1 draw between Vietnam and Thailand at the SEA Games on December 2 is being hailed as an admirable start for Vietnam.
The opening match between the two U23 rivals in Vientiane, Laos' National Stadium was thrilling for football fans that came out to cheer on their teams.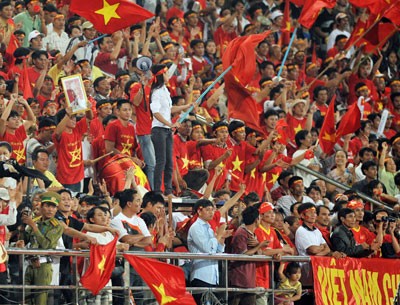 Thousands of football fans came out to watch Vietnam's U23 team play Thailand in the first match on December 2 in Vientiane, Laos. (Photo: SGGP)
Vietnam's coach Calisto wanted to protect the midfield area and arranged five players at the start of the match.
The team came out confident showing great determination, but was unable to take control of the game allowing Thailand several opportunities to score.
Vietnam had just three formidable kicks during the game with Dinh Tung kicking one just over the crossbar in the 64th minute.
Although Thailand had only four midfielders, they controlled the game with a great effort by midfielder Arthit Sunthornphit. 
Experienced Thailand midfielders Sunthornphit and Phanuwat Jinta dominated the midfield area giving the team 13 attempts on Vietnam's goal. Five of the kicks proved scoring opportunities.
In the 5th minute, Thailand's Arthit fired wide of the left post while Soled shot over the crossbar in a one-on-one with Vietnam's goalkeeper Tan Truong in the 62nd minute.
Then a misstep by the Vietnam goalie allowed Thailand's Keerati Keawsombut to score the first goal in the 72nd minute.
But Vietnam answered back with a determined attack as Tien Thanh was put on defense. In the 89th minute, Dinh Tung scored the equalizer for Vietnam with a penalty shot, ending the game in a 1-1 draw.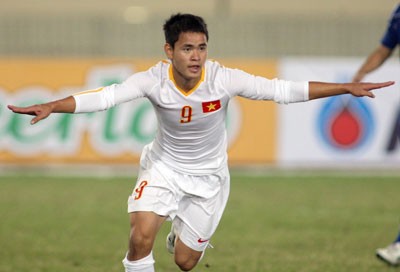 Vietnam's Dinh Tung celebrates after scoring the equalizer for Vietnam at the 25th SEA Games in Laos. (Photo: SGGP)
The result is encouraging for coach Calisto's players, setting the tone for future wins in the next matches at the 25th SEA Games.
Speaking on the sidelines, coach Calisto said the 1-1 draw was not a bad start for his team, adding that he was pleased with his players and how they performed.
They were some shaky moments in the beginning, however, he said. When the players became stressed, they failed to capitalize on their strengths, Calisto said.
Thailand's coach Steve Darby said he was disappointed at not winning the first match, but was still pleased with his players.
Another of Vietnam's competitors, Malaysia, had an initial success in its first game, beating East Timor 11-0.
Vietnam will meet East Timor on December 4 at 5:45 pm.
In related news, Vietnam's women's team arrived in Vientiane, Laos on December 2 to prepare for their matches at the SEA Games.
Chairman of the Vietnam Football Federation Nguyen Trong Hy, deputy Chairman and General Secretary of the Vietnam Olympic Committee Hoang Vinh Giang, and the national cycling team also arrived in Laos on the same day.