Vietnam's Olympic football national squad plan to achieve the first ever gold medal at the 26th Sea Games as they strive to accumulate experiences from hard training, according to head coach Falko Goetz.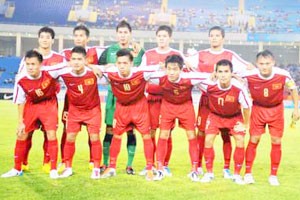 The Vietnam Olympic Football Team in the qualifiers of the London 2012 Olympic Games
The dream of precious gold medal in the 26th SEA Games has been targeted by Vietnam Football Federation (VFF) since the very first day they decided to sign contract with Goetz.
Although Goetz understood that this is a tough mission as he was not quite familiar with the Olympic Team, he still confidently accepted it.
Two assistant coaches, Phan Thanh Hung and Nguyen Van Sy will lend the German coach a hand to fulfill his responsibility.
Besides, the coach for Olympic Team's goalkeeper is now a consideration between Tran Van Khanh and Nguyen Van Phung.
The official players of Olympic Team are going to be announced soon but they are mainly expected to choose from the country's squad which played Saudi Arabia in June.
Before the 26th edition of SEA Games kicks off, these players have to undergo a series of tournaments and trainings to prepare for the dream of gold in Indonesia.
This plan aims at offering the footballers more experiences, and most importantly helping the team find out the most appropriate strategy for each position.
The whole team will have their first get-together from Sep 22 at Thanh Long Sports Center in Ho Chi Minh City, before their first chain of warm-up matches for the 26th SEA Games in the 2011 Ho Chi Minh City International Football Cup taking place at the city's Thong Nhat Stadium.
After the five-day tournament wraps up on the second of October, Olympic Team's footballers will be back to their training courses at My Dinh National Stadium in Hanoi Capital.
It is about to last for more than two weeks, and ends one day before the 2011 VFF Cup happens from Oct 19. 
As soon as the second series of warm-up matches close on Oct 23, coach Goetz and the Olympic Team gather at My Dinh Stadium once again to reckon up the experiences they get during one month.
As planned, the team will fly to Indonesia on Nov 4 to get ready for the thrilling matches at the 26th SEA Games.
The paring results in these two competitions show that the country's Olympic Team will play squads from Singapore, Syria, Korea in the International Cup and Malaysia, Indonesia, Thailand in the VFF Cup.
According to Nguyen Lan Trung, the VFF's Vice Chairman, these competitions are to open up golden opportunities for Vietnam Olympic Football Team to meet with four strong rivals at the 26th SEA Games before this important event actually starts.