Japanese Football expert Kazuyoshi Tanabe on Tuesday, January 22 began a thorough study of Vietnamese football before signing a contract with Vietnam Professional Football (VPF).
As reported earlier, football expert Tanabe was invited by Vietnam Professional Football (VPF) to coordinate with local football leagues under recommendation of a J-League official.
Tanabe has worked as CEO of Japanese football clubs including Yokohama, Avispa, Fukuoka and Ryukyu.
According to sources, Tanabe has been hired due to his vast experience in football championships, especially in organizing, branding and attracting audiences.
Therefore, many Vietnamese football fans hope V-League will flourish in 2013 with the help of Tanabe.
Armed with 20 years working with Japanese and European football teams, Tanabe advised local teams to have several sponsors simultaneously instead of relying solely on a sponsor or one manager.
Besides, Tanabe stressed that salary wasn't his main concern.
"I'm willing to take on new challenges and contribute to reviving Vietnam's football industry. Otherwise I would be working in my own country under more favorable conditions," Tanabe said.
During his two days in Vietnam, the Japanese expert watched the friendship football matches between local teams.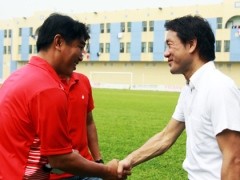 Japanese football expert Kazuyoshi Tanabe (R) (Photo: SGGP)
While watching a friendly match of Vietnamese U.16 players, Mr. Tanabe said he was impressed with the young players.
"With this potential, he hopes the Vietnamese team will achieve higher goals," he remarked.
Tanabe, who worked for three years in France and gained remarkable success, also urged the Vietnam Football Foundation and VPF to hold training sessions and internal meetings like in Japan and France to ensure higher professionalism and smoother cooperation among team members.
"It probably won't take long to bring about a transformation in the Vietnam football industry, as a large number of local fans will support if we ensure our matches are of good quality, exciting, honest and fair-play," Tanabe shared.
The latest difficulties the local industry encounters include the split-ups of several teams due to financial problems and failure to seek sponsorships.
"I was surprised when visiting the well-equipped Thanh Long sports center, which is merely hired by teams and used for the training of young footballers," Tanabe said.