After a two-day training session in Laos, Vietnam is set to play archrival Thailand at the U23 opener of the 25th Southeast Asian (SEA) Games on December 2. Team coach Henrique Calisto, however, expressed some concern at a press conference November 30 about his team's prospects.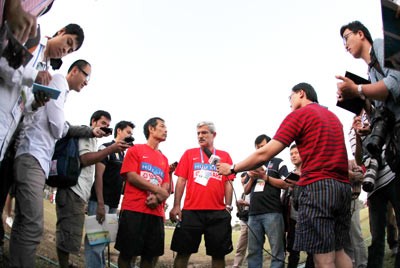 Vietnam coach Henrique Calisto (3rd, R) speaks to Vietnamese reporters on November 30 in Laos about his team's SEA Games prospects. (Photo: SGGP)
Vietnam has been drawn into group A, which includes Thailand, Malaysia, East Timor and Cambodia. The teams will play a round-robin format with the top two teams qualifying for the semi-finals.
Speaking to reporters, Portuguese Calisto said to put players at ease, he will not insist on a win in the first match. However, Vietnam needs to win against Malaysia, if not Thailand, he said.
Calisto also said his team has certain disadvantages. Both Malaysia and Thailand have more experience than Vietnam with just two Vietnam members having played in the Asian Football Federation (AFF) cup. Thailand and Malaysia, on the other hand, have had several players take part in the AFF cup. In addition, key Vietnam player Nguyen Trong Hoang still needs a few days to recover from a thigh injury.
An official list of players competing in the SEA Games will be announced December 1, said Calisto.
The Vietnamese team arrived in Vientiane, Laos on November 28 and spent two days training in preparation for the Games. Eager Vietnam football fans are hoping for a win in the first match.
Coach of the Vietnam women's football team, Tran Van Phat, said the team's goal is to win gold at the SEA Games despite some weaknesses.
Striker Do Thi Ngoc Cham will not be playing due to a knee injury and will be replaced by midfielders Minh Nguyet and Kim Chi. Phat said he also worries about players Mai Lan, Kim Chi and Dao Thi Mien who are not as young as some of the others and could tire more easily.
The women's team will head to Laos on December 2 and will play Malaysia on December 6, Myanmar on December 8, Thailand on December 11, and host Laos on December 13.
The Vietnam women's team was crowned the champion at three SEA Games in 2001, 2003 and 2005.
The 25th SEA Games opening ceremony will be held on December 9 in Laos.