Vietnam's national squad defeated Greek reigning champions Olympiakos in a friendly in Hanoi Thursday with the only goal scored a few minutes before the final whistle.
The goal came from striker Nguyen Quang Hai, who netted for Vietnam in their away 1-0 victory over Singapore in a 2008 ASEAN Cup semifinal to send Vietnam to the final last December.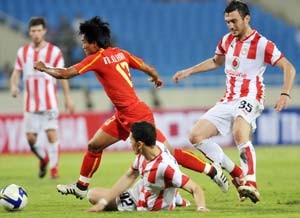 Vietnam striker Nguyen Quang Hai (in red) passes an Olympiakos defender during their friendly in Hanoi May 14 (Photo: SGGP)
Vietnam coach Henrique Calisto replaced captain striker Le Cong Vinh with Hai in the 78th minute. In the 85th minute, Hai made a solo show, dribbling the ball passing three Olympiakos players but his finish was wide.
In the 88th minute, from a low cross by midfielder Dinh Hoang Max of Nigerian origin, Hai shot on the edge of the penalty box and his finish beat goalkeeper Kovac, who earlier replaced captain keeper Antonios Nikopolidis.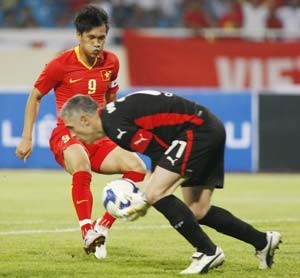 Vietnam captain Le Cong Vinh (L) approaches Olympiakos captain keeper Antonios Nikopolidis during their friendly in Hanoi May 14 (Photo: SGGP)
The two teams started their friendly at 7:30 pm at My Dinh National Stadium and both played in an open manner. After the first scoreless half, Portuguese tactician Calisto's side played faster and striker Le Cong Vinh had two chances and both finishes were denied by experienced keeper Nikopolidis.
Later, Nikopolidis, who was instrumental in bringing the first EURO Cup trophy to Greek in 2004, was replaced by Pavel Kovac, as Olympiakos coach Ernesto Valverde said before the match that he would use all the 18 players he brought to Vietnam this time.
He also said the absence of some key players would not affect his team's strength.
In December 2008, Vietnam were honored also at the national stadium as the new champions of Southeast Asia. On Thursday, the team played against the first foreign guests since that time. Five months ago, all the Vietnamese players were merely Vietnamese. On May 14, the team had two naturalized Vietnamese, goalkeeper Dinh Hoang La (or Lytovka Mykola from Ukraine) and midfielder Dinh Hoang Max (Nigerian footballer Maxwell Eyerakpo). They received Vietnamese citizenship earlier this year.
Calisto said after the friendly that both La and Max played fairly good.
The Portuguese coach and his players will start another training camp in a next few days to prepare for a 2011 Asian Cup qualifier against Kuwait on May 31. The coach said earlier that for this time, he would call key players from Binh Duong, who had to play for their club in the AFC League during the previous training session. Binh Duong striker Huynh Kesley, a naturalized Vietnamese of Brazilian origin, named Kesley Alves, would be called.